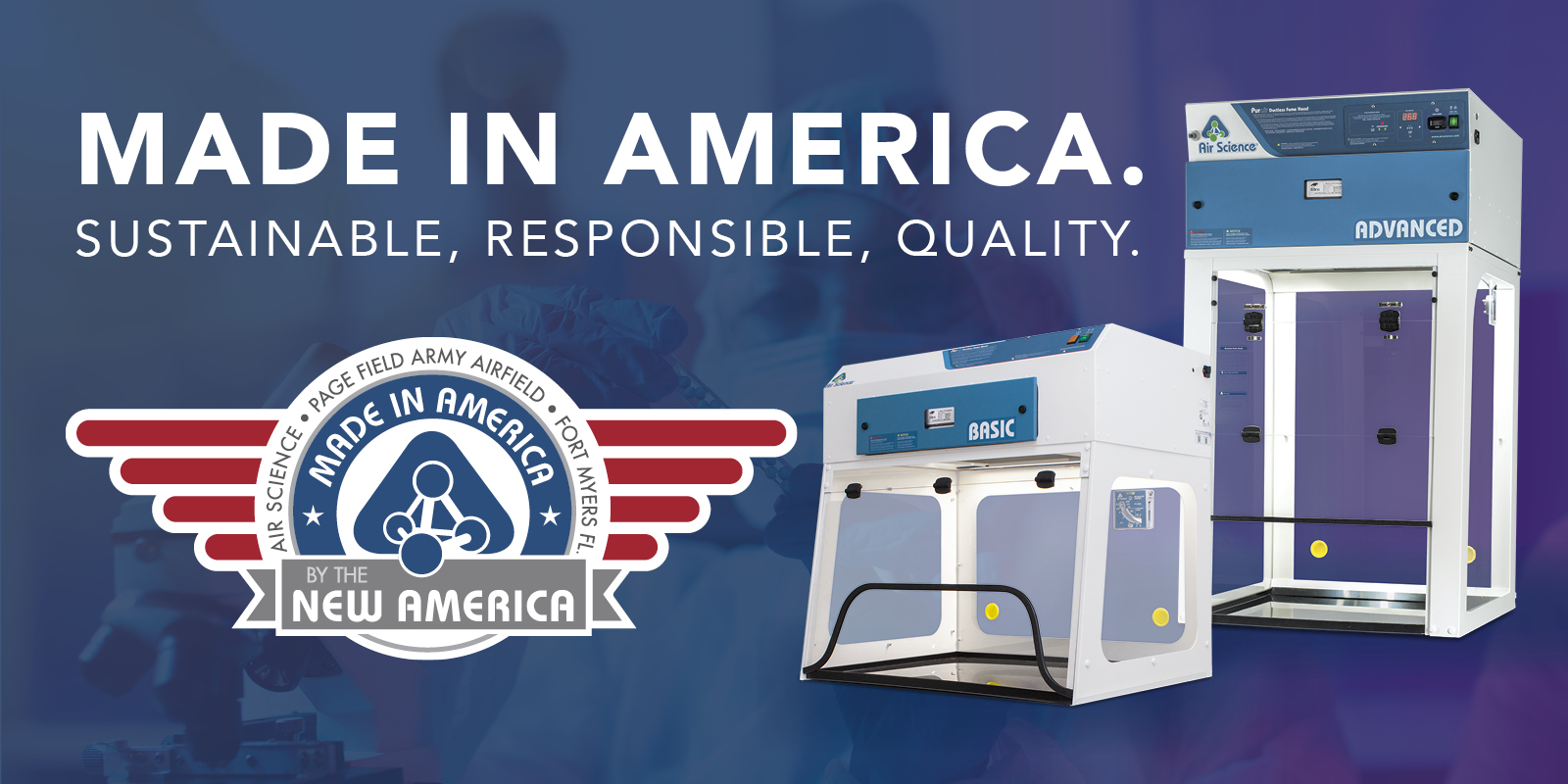 In an increasingly global economy, we may not always consider where the equipment we buy is made. However, the manufacturing location of your laboratory equipment can greatly impact product quality, sustainability, and more.
High-Quality
Choosing American-made laboratory equipment has numerous benefits, including higher product quality. Air Science is synonymous with quality. As an ISO 9001-certified manufacturer since 2008, we meet international standards for a quality management system that helps us ensure efficiency and customer satisfaction.
Product quality keeps our customers returning to Air Science for all their ductless equipment needs. By manufacturing equipment in our facility, Air Science can take control of the supply chain in-house and more closely manage the quality standards for each component of Air Science products. Our ductless equipment is hand-crafted, tested, and inspected with extreme attention to detail before we ever consider shipping to our customers.
Sustainable
US manufacturers are held to higher environmental regulations, making American-made products a more environmentally-friendly choice. Air Science is an ISO 14001-certified manufacturing facility. ISO 14001 is an international standard that outlines environmental management system requirements. It helps organizations improve their environmental performance through more efficient use of resources and waste reduction. Air Science is committed to protecting Earth's local and global environment by minimizing environmental impacts concerning our activities and products.
Socially Responsible
In addition to ensuring the high quality of the laboratory equipment you buy and improving your environmental sustainability, buying American-made equipment is also a socially responsible choice because US manufacturing companies are held to a higher standard for worker rights and safety. That means that in addition to supporting the US economy and protecting US manufacturing jobs, buying American-made products also helps support human rights by not contributing to the support of unfair and unsafe working conditions.
Air Science works to provide high-quality products that protect the safety of our customers and the environment while providing safe, rewarding working conditions for our employees.
Air Science – Dedicated to Safety, Service and Quality
Today, Air Science is known globally as a trusted manufacturer of a wide selection of ductless laboratory equipment. Our reputation for quality extends from our manufacturing processes to our key product offerings, including ductless fume hoods, forensic science equipment, PCR laminar flow cabinets, and laminar flow hoods.
Make a Difference. Buy American-Made Lab Equipment.