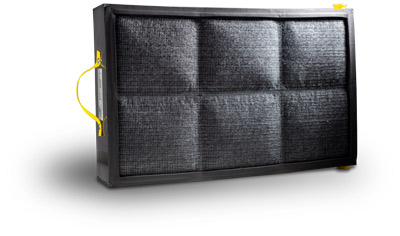 EFT filters are designed for a wide range of core chemical families as well as inorganic acids.
Organic Acids
Alcohols
Aliphatic Hydrocarbons
Aromatic Hydrocarbons
Esters
Aldehydes
Ketones
Ethers
Halogens
Enhanced Filtration Technology™ (EFT), first introduced in 2010, is an innovation in ductless fume hood applications associated activated carbon filtration and combinations with HEPA/ULPA filters. Pioneered by Air Science, the technology extends beyond activate carbon filtration for the adsorption of single chemical families. Using EFT, carbon is specially prepared to handle multiple chemical families in one filter, and even biological particulates when
HEPA/ULPA filters
are used.
The proprietary technology enables Air Science to engineer filter combinations to meet unique applications. In order to create filters via EFT, different carbon types can be combined to handle various chemical families used in specific applications.
Activated carbon is produced from a wide variety of carbon-rich raw materials including wood, coal, peat, coconut shells, nut shells, bones, and fruit stones. There are hundreds of different types of activated carbon compounds in the world, each made for specific applications, with ongoing research into new sources of materials for activated carbon.
Because thicker filters, such as 100 mm thick ASTM type, provide greater flexibility in designing the filter than the ASTS type filters (40mm thick), EFT works best in
Purair® Advanced
and
Purair ECO
ductless fume hoods. EFT can, however, be retrofitted on many Air Science ductless fume hoods already in service worldwide.
When used in conjunction with the
Multiplex™ Filtration System
, this activated carbon can then be configured in numerous ways depending on the application need. It can be constructed in a single, blended, or layered configuration or combined with one or more carbon filter (stacked) and with or without additional HEPA or ULPA filtration for added protection against particulates or biologicals.