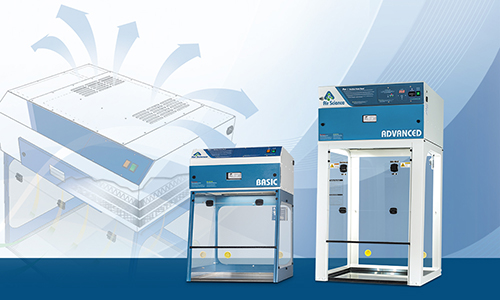 Air Science has a suite of products designed to control and deliver filtered air for a variety of applications. This product selection was created, developed and improved over two generations. Our enclosures carry all the benefits that have derived from ductless technology, including easy installation, portability and reduced installation and operating costs.
Our products typically support common applications found in the life science, forensics and pharmaceutical industries. There are, however, numerous applications in clinical medicine, research, industry, agriculture and other areas that greatly benefit from our product lineup.
Ductless Fume Hoods
Ductless fume hoods represent our largest product line up. Units are suitable for applications that require user and environmental protection from hazardous vapors and fumes. When combined with optional HEPA filtration, our ductless fume hoods can also provide particulate protection.
Food and Beverage
Craft Brewers – both the home brewer and small to large-scale breweries
Industry & Makers
3D printer fume capturing
Soldering or metal fabrication
Airbrushing / miniature painting and assembly
Circuit board assembly
Agriculture
Botanical and cannabis production
Plant science
Crop genetics
Laminar Flow Hoods
If your primary goal is to protect your work from particulate contamination then a laminar flow hood from our second largest product lineup might be right for you.
Though both options prevent dead zones that cause particle buildup and contamination from unpredictable particulate movement in the work zone, whether you need a Vertical Laminar Flow (VLF) cabinet or a Horizontal Laminar Flow (HLF) cabinet will depend on your unique application.
Agriculture
Plant tissue culture / mycology
Education
Basic bacteriology and microbiology, plating, basic cell culture
During agar plate pouring in university classrooms
Vented Enclosures
Our Vent-Box™ minimizes health and environmental risks of chemical vapors and VOCs typically found in chemical safety cabinets while our Vented Enclosures™ help contain particulates during nonsterile applications.
Industry
Modular use on various existing chemical storage cabinets
Research
Compounding and powder weighing
Industry
Robotics and robotic enclosures
Biological Safety Cabinet
Air Science offers one Biological Safety Cabinet (BSC) in four standard sizes. Class II, Type A2 BSCs protect the product, personnel, and environment from exposure to biohazardous materials and cross-contamination. They are typically used in microbiological and biomedical laboratories to contain potentially hazardous pathogens, contaminants and protect cell culture research.
Research
Formulation of nonvolatile cancer medications, including antineoplastic and chemotherapeutic drugs
Food and Beverage
Custom Enclosures
In addition to our standard offerings, we can amend our products to fit the needs of your unique application.