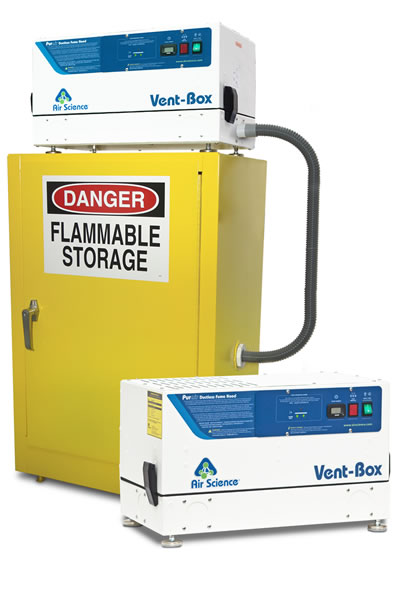 Vent-Box™ ductless filtration systems are designed to protect laboratory personnel from chemical vapors found inside of standalone chemical safety cabinets. The Vent-Box serves as modular ventilation and a filtration system for all chemical safety cabinets.
Vent-Box Features & Benefits
Low-profile, completely portable, no ductwork required.
Compact size, easily positioned on shallow safety cabinets.
Modular design permits multiple configurations.
Product Features:
B. Hose: Each unit is provided with a PVC or metal flex hose with smooth inner surfaces to minimize pressure drop and friction loss. The vent hose is connected to the cabinet via a metal adapter.
C. No-Tools Filter Access: The filter is easy to replace, no tools required. Simply open the easy access lid and change the filters.
D. Multiple Connection Configurations: The Vent-Box comes equipped with four possible intake connections, allowing you to easily configure the unit to meet your space requirements.

E. Exhaust Port: Slotted exhaust port allows for an optional bolt-on ducting collar that allows connection to existing in-house ductwork.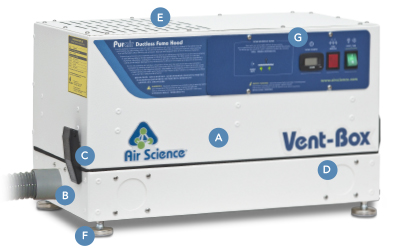 F. Leveling Feet:
Equipped with adjustable leveling feet that ensure solid placement on a variety of surfaces.
G. Control Panel: Electronic controls and displays include switches for the blower and filter blockage alarm.
Featured Vent-Box Models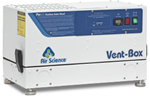 VB60
Modular ductless filtration system
115V, AC, 50/60Hz
220V, AC, 50/60Hz