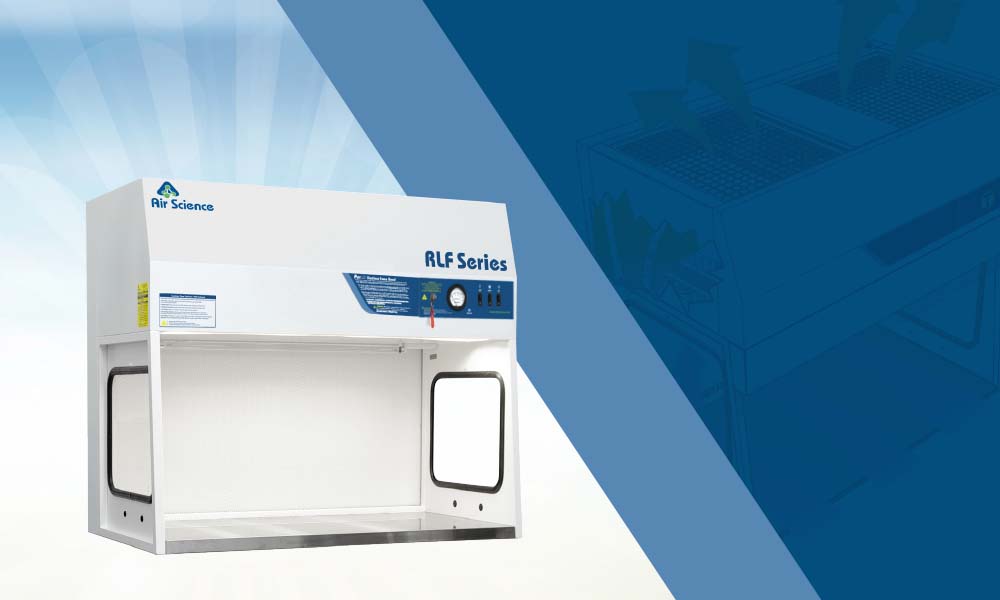 Reverse laminar flow cabinets use the same streamlined, constant airflow to provide particulate direction. The key difference between laminar flow hoods and reverse laminar flow hoods is that the former protects items on the work surface while the latter protects operators.
Reverse laminar airflow offers numerous benefits. Because reverse laminar flow cabinets protect the operator from particulates, they're often used in dispensing or sampling processes and other applications that handle potentially hazardous powders.
Our Reverse Laminar Flow Hood products rely on Air Science Multiplex™ ULPA Filtration Technology for high performance protection. The large volume of horizontal inward (negative) airflow in the cabinet provides protection equivalent to Class I biological safety cabinets, fume hoods or related containment devices with greater access to the work zone.
Like laminar flow cabinets, reverse laminar flow hoods come in vertical and horizontal configurations. Both Reverse Vertical Laminar Flow (RVLF) and Reverse Horizontal Laminar Flow (RHLF) offer the same quality, performance and operator protection. When choosing between the two, the difference primarily comes down to personal preference for your specific application.
Reverse Vertical Laminar Flow Benefits
In reverse vertical flow cabinets, the ULPA filter is mounted above the work surface, which provides a taller and deeper workspace. This allows larger equipment to be used in the work zone without interrupting airflow. It is also easier to customize a reverse vertical flow cabinet to fit the unique needs of a specific application.
Reverse Horizontal Laminar Flow Benefits
In reverse horizontal flow cabinets, the airflow does not directly impinge on the work surface but is drawn smoothly across it to reduce turbulence. However, large and tall equipment can interrupt airflow more than in an RVLF cabinet, create more turbulence and possibly create "dead" spots where airflow is reduced.
Learn more about Air Science Reverse Laminar Flow Cabinets.
Resources