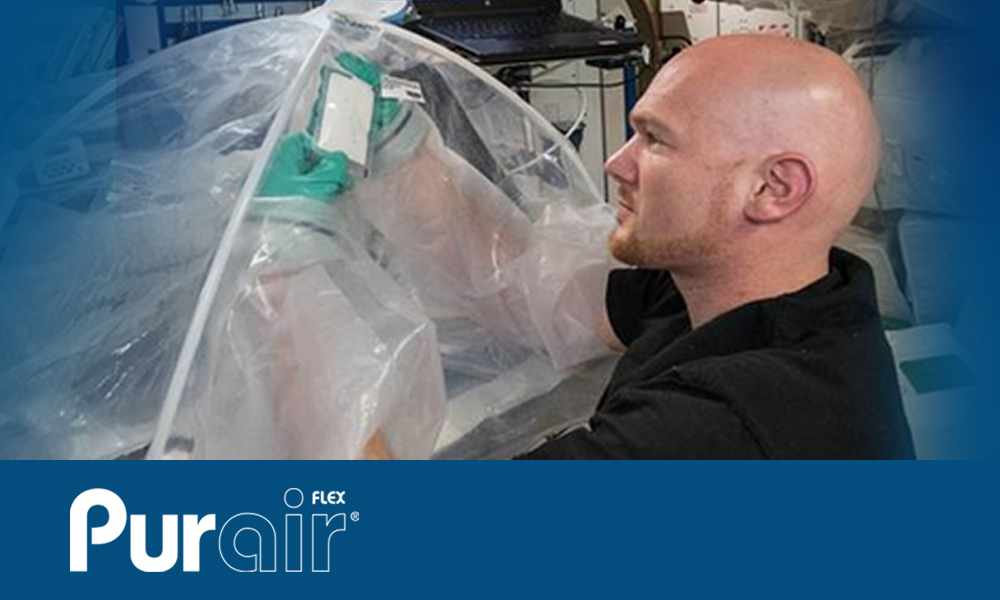 The Air Science® Purair® FLEX Portable Isolator is back aboard the International Space Station (ISS), where astronauts are using it during the Alpha mission's scientific research. The six-month mission aboard SpaceX's Crew Dragon capsule, named Endeavour, includes a planned 232 scientific experiments that can't be carried out on Earth. The Crew Dragon spacecraft launched in April and will return no earlier than Oct. 31. According to NASA, "the human research study observes how bacteria is affected by microgravity and investigates ways to counteract any potential harmful changes."
In photographs released on NASA and Instagram, astronaut Thomas Pesquet can be seen using the Purair FLEX. "Working on the Oral Biofilms experiment (pictures by Megan). Researchers are investigating bacteria and how they form biofilms, and how they adapt to weightlessness. We use the glovebox to keep the experiment fluids contained. We don't want them floating around the space station, thank you! However, the bacteria in question grow naturally in our mouths, the research is interested in finding out more about the biofilms that grow on our tongues or teeth. Will they still grow as well in space, and can we find ways to stop them?"i
This mission marks Thomas Pesquet's second spaceflight, where he makes history as the first French commander of a space station.
Purair FLEX Features & Benefits
Spacious Interior Volume. An innovative curved film design provides more working volume than any other glove bag on the market.
Easy Setup. Semi-rigid support rods simplify setup and increased stability even if the bag is not inflated to full pressure.
Large Workspace. At 30″ (762 mm) wide and an internal volume of 3 cu.ft. (85 L), a large work area with a 12.5″ (317 mm) gas-tight zippered access with a 6″ (152 mm) diameter opening is provided.
Included HEPA filtration options, a built-in Bag-in/Bag-out port, and a nitrogen purge inlet connection create an oxygen-free workspace.
As confirmed by independent product testing, puncture-resistant construction with ArmorFlex® film offers complete visual clarity and excellent solvent resistance across various chemicals.
The Air Science Purair FLEX is a revolutionary containment device that expands where, when and how glove bags can be used. The Purair Flex isolator provides a high level of containment and advanced product features, delivering user safety without compromising the dexterity and vision of the user. All laboratory processes may be safely and easily performed inside this flexible film isolator while protecting the work, the user and the environment.
Resources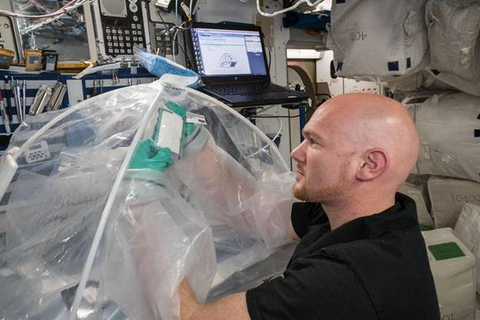 Expanded Uses for the Flexible Film Isolator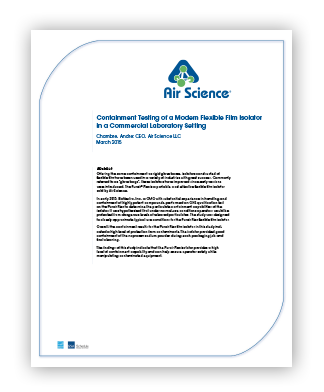 Flexible Film Isolator Whitepaper
iPesquet, Thomas. "Photo of Oral Biofilms Experiment." Instagram, August 9, 2021. https://www.instagram.com/p/CSXAOLEMayY/