Glove boxes have long been used the laboratory to provide protective containment and an inert working environment for highly delicate or potentially dangerous procedures. While glove boxes are rigid, fixed-location containment solutions, flexible film isolators or "glove bags" are portable. Both feature fully sealed gloves to allow use of equipment inside the workspace while protecting the work, the personnel and the environment.
The rigid nature of a glove box works well in a laboratory setting, yet there are additional procedures and applications outside of the conventional laboratory in which protective containment is necessary. Offering the same protection as a rigid glove box, the flexible film isolator or 'glove bag' is a portable containment solution constructed of impermeable film, allowing use far beyond the laboratory in pharmaceutical, forensic, biological and aerospace applications.
Far beyond the conventional laboratory, this highly portable, cost effective flexible film isolator permits easy set up and delivers superior containment while offering some of the most robust product features available on the market today.
High Quality Materials: ArmorFlex® film construction assures visual clarity and excellent solvent resistance across a range of chemicals; 8 mm thickness prevents accidental puncture.
Large Workspace: Innovative curved film design provides maximum working volume and visibility.
Gas tight zippered redundant sealing system serves as secondary containment in the event of zipper failure
HEPA Filtration: Standard HEPA filtration maintains atmospheric pressure and allows safe deflation and disposal of a contaminated system.
Bag-In/Bag-Out Safety: Minimizes contaminant exposure during filter change.
Oxygen-free Work Zone: Standard nitrogen gas barb permits creation of an oxygen-free workspace. Can typically be purged quicker than a rigid glove box and with less gas, making adaptation to specific applications easy and more economical.
Sealed Ambidextrous Gloves: Maximum protection with one size fits all design; allows users to change gloves quickly and easily to meet a variety of dexterity needs.
Simple Support Rod Design: Semi-rigid support rods simplify set up, offer structure stabilization even if bag is not inflated to full pressure.
Carrying Handle: Built in carrying handle folds flat when not in use.
Disposable: Economical enough to be used once and discarded if contaminated. Durable, may be used repeatedly if desired.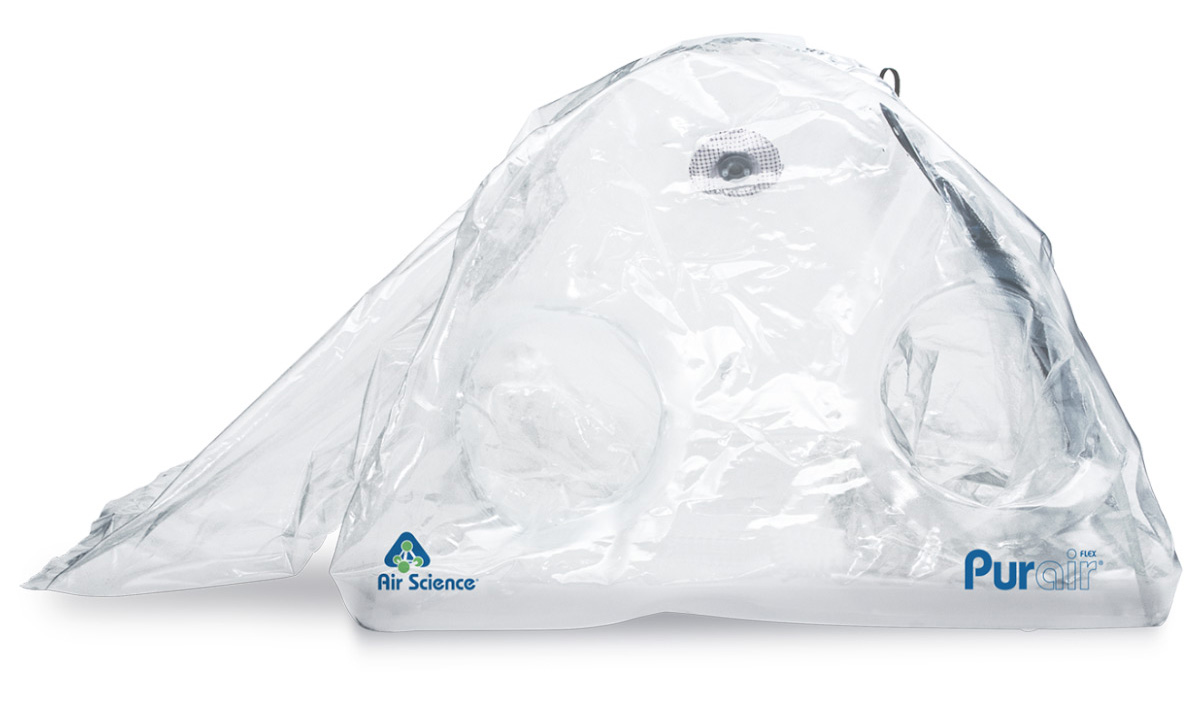 The
Purair Flex isolator
provides a high level of containment and advanced product features, delivering user safety without compromising the dexterity and vision of the user. All laboratory processes may be safely and easily performed inside this flexible film isolator while maintaining protection of the work, the user and the environment.