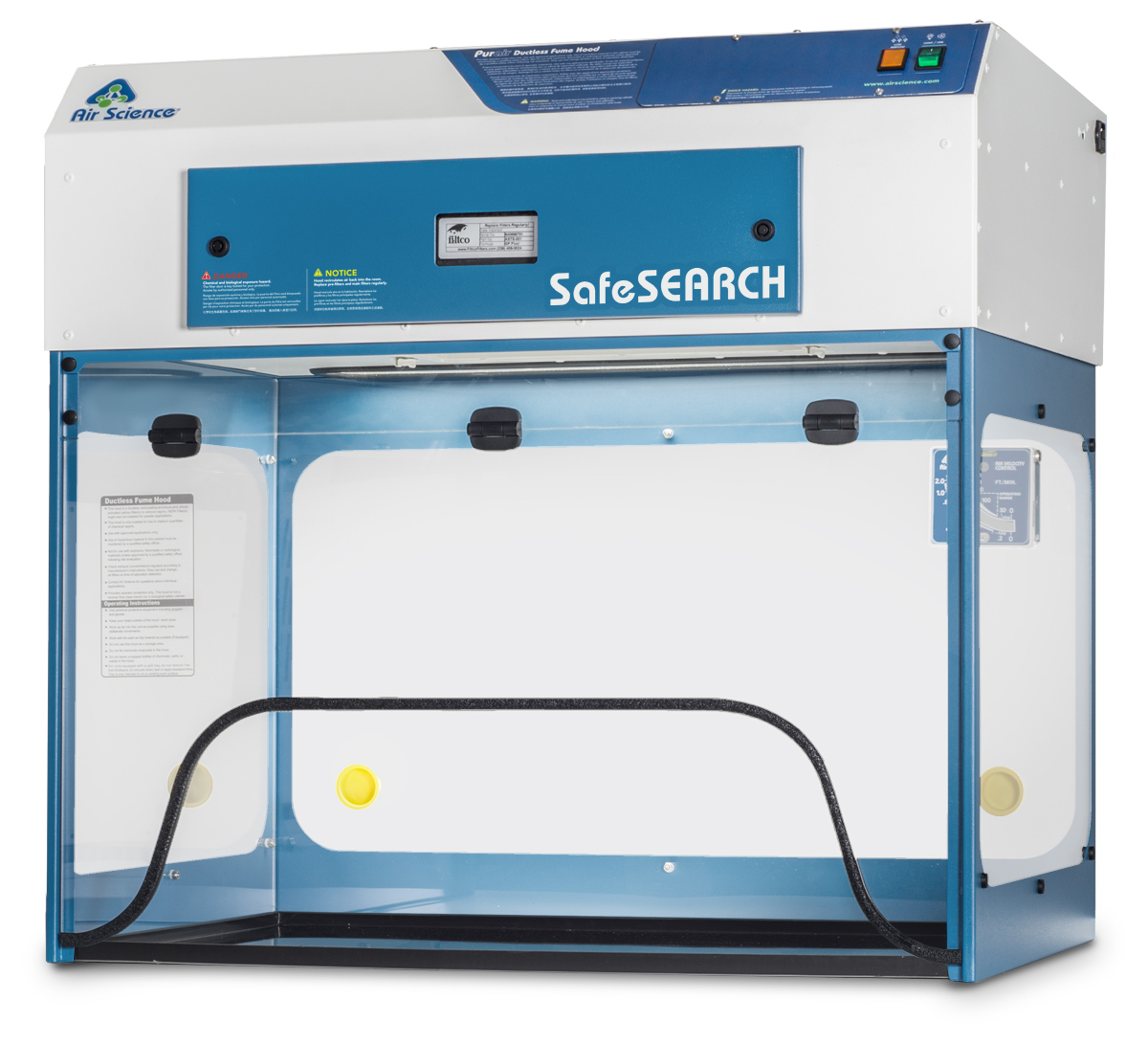 Air Science has introduced a selection of mail handling fume hoods designed to improve user safety in handling and screening of envelopes and packages. Despite shipping regulations, narcoticsand other substances that are harmful when ingested, inhaled or absorbed are often sent, both legally and illegally, via mail. In addition to potential attacks through the shipment of anthrax and explosives, the shipment of drugs and pharmaceuticals puts mail handlers at risk when packaging is compromised.
The Purair SafeSEARCH is a freely accessible negative pressure containment cabinet, or ductless fume hood which creates a pressure airflow on the work surface to pull particulates away from the handler as it draws air into the work area and through the Multiplex™ filter. This filter is a combination of a broad spectrum, general purpose carbon filter with a HEPA/ULPA filter to capture drugs, chemical vapors, and other particulates with greater than 99.999% efficiency.
The Purair SafeSEARCH provides ideal protection against exposure to narcotics and other particulates and fumes that compromise personnel safety. A life-threatening overdose from prescription painkillers can happen with just one touch or the simple act of inhalation near a compromised envelope or package. Wearing latex gloves during the sorting and handling of mail can help lower risks to workers, but the greatest threat comes from breathing in airborne particles.
DHS Recommendations
The Purair SafeSEARCH complies with best practices recommended by the US Department of Homeland Security (DHS). DHS recommends that handling and opening of mail be done in filtered exhaust hoods or containment receptacles as an added layer of protection.
Safe, Sustainable and Cost Effective
SafeSEARCH reduces the risk of releasing chemical vapors and harmful particulates into the environment
Ductless technology is energy efficient and does not put additional strain on existing facility HVAC systems
Ductless design eliminates HVAC construction and saves on utility costs
The SafeSEARCH cabinet design eliminates bypass leakage that could blow back to the operator
Electronic monitoring ensures continued performance and safety
HEPA/ULPA filters provide additional safety layer against biologicals
Easily installed in existing or new facilities without HVAC changes
Standard sized turnkey models are self-contained, selected models are portable
Air Science also offers custom engineered SafeSEARCH cabinets for unique application requirements including portable units, and walk-in or roll-in units for large scale needs and more.
For More Information
Learn more about the entire family of Purair SafeSEARCH ductless fume hoods online at www.airscience.com/purair-safesearch-ductless-fume-hoods