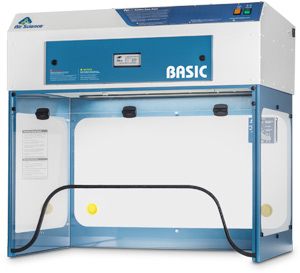 The Purair Basic has been updated to create one of the world's most energy efficient ductless fume hoods. Eco-friendly, advanced carbon filtration technology used in the Purair Basic offers a safe, high performance alternative to conventional ducted fume hoods designed to protect the user and the environment from hazardous vapors generated on the work surface.
New Features
The high efficiency ebm-papst EC blower promotes long life and dependable performance while minimizing cost of ownership. Internal testing using primary filters during normal operation documented energy consumption of 22-50 watts.
Energy-saving LED lighting provides comfortable illumination to the work surface without significant heat output.
Easy exchange, leakproof filter clamps permit quick filter changes without the need for tools.
Purair Basic products are available in 3 standard widths, 2 depth options, in metal or polypropylene construction, totaling 12 standard models.
Get a quote today or visit the Purair Basic product page for more information and product literature.