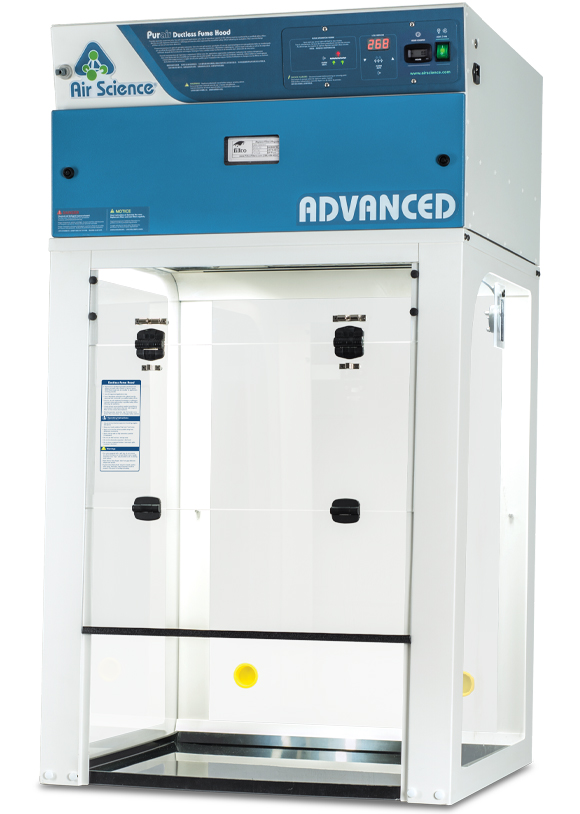 Purair® Advanced Series high efficiency ductless fume hoods are designed to protect the user and the environment from hazardous vapors generated on the work surface. The latest generation of Purair Advanced cabinets include a series of improvements based on user feedback and a broad component sourcing program that offers performance rated as among the best in the world.
Comprehensive Controls
The microprocessor controller provides powerful monitoring capabilities and alarms for supervision of all functions. An optional Filter Saturation Alarm/AutoCal controller integrates the microprocessor and provides additional options to detect VOC pass-thru if filter efficiency declines, prompts timely filter replacement for user safety.
ECM Blower Motor
Smoother, quieter, more energy efficient operation thanks to the use of ball bearings and a more controlled power curve. ECMs help achieve facility sustainability objectives with up to 65% efficiencies and lower costs of operation.
LED Lighting
Cost effective, energy efficient, long-lasting and evenly distributed, provides ample non-glare illumination to increase comfort and to enhance the user experience. LEDs last up to 5 times longer and use 70% less energy than similar incandescent bulbs.
Work Surface Options
Polypropylene work surface is provided standard and is ideal for processes with bases, most oxidants, hydrofluoric acid and more. A choice of stainless steel work surface for more aggressive spill environments can also be selected.
New Filter Replacement Process
Simplifies exchange of used filters for new filters, enhances protection for the user and the environment. Filter replacement is also made safer with the optional SafeSwitch™ Shutter system which closes the exposed filter media face and minimizes operator exposure to the contaminated filters.
Renewed UL Certification
Provides additional documentation for safety and performance in a demanding laboratory environment.
USP 800 Compliant
The Purair Advanced ductless fume hood is USP 800 for handling hazardous drugs in health care settings to promote patient and worker safety, as well as environmental protection wherever hazardous drugs (HDs) are prepared.
At the heart of the Purair Advanced ductless fume hood product line is the innovative Air Science® Multiplex™ Filtration Technology that creates a safe work environment over the widest range of applications in the industry.
Applications
Safe Package Screening
3D Printing
Capsule Filling
Chemical Sampling
Dental Lab Processes
Drug and Chemical Analysis
Evidence Processing
Precision Weighing
Histology
VOC Containment, Filter Specific
Particulate Containment, HEPA Supported
For More Information
Learn more about the entire family of Purair Advanced ductless fume hoods online at www.airscience.com/purair-advanced-ductless-fume-hoods