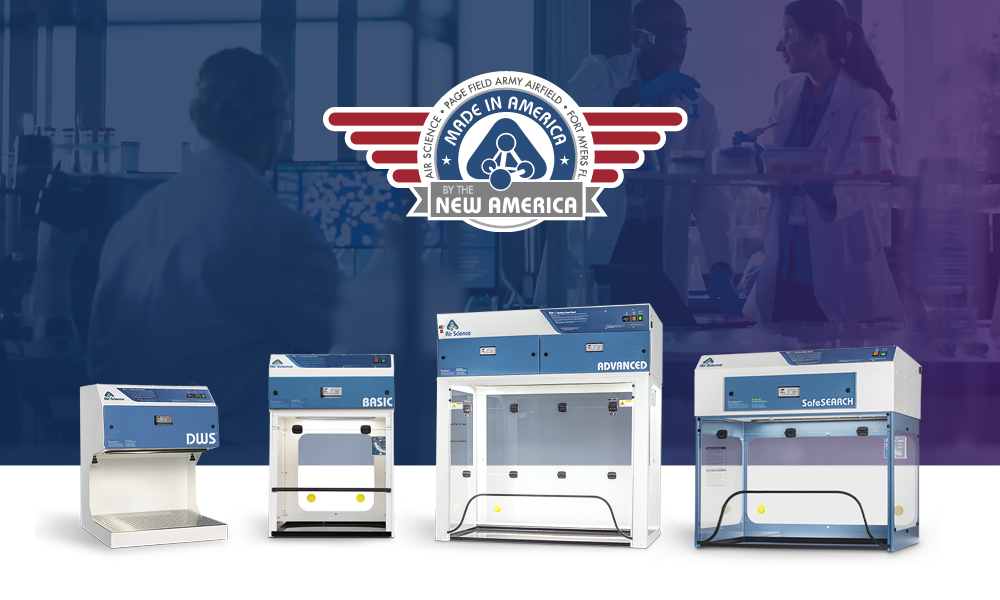 Since our start in 2002, we have sought to provide the highest level of design, engineering, and manufacturing of ductless technology. At the time, ductless technology was new, and facility managers were reluctant to trust personnel safety to a novel technology. We set out to make better equipment and educate the market on the safety of carbon filtration and ductless technology. In 2008 Air Science became the first ductless fume hood manufacturer to achieve ISO9001 and ISO14001 certification.
Today, Air Science is known as a trusted manufacturer of a wide selection of ductless laboratory equipment. Our reputation for quality extends from our manufacturing processes to our key product offerings, including ductless fume hoods, forensic science equipment, polymerase chain reaction (PCR) laminar flow cabinets, biological safety cabinets (BSC), and laminar flow hoods.
Ductless Laboratory Equipment Made in America
Our ductless fume hoods provide energy savings, safety and convenience and are available in various configurations, including mobile fume hoods and polypropylene fume hoods.
Our forensic equipment suite ensures accurate, repeatable results from collection and transportation to evidence processing.
The Purair® PCR workstation offers protection by laminar flow for PCR amplification handlings that are extremely sensitive to contamination with ease of UV decontamination and sterilization cycles.
Our laminar flow hoods come in Vertical Laminar Flow (VLF) cabinets and Horizontal Laminar Flow (HLF) cabinets. They are designed to protect items in the work zone from particulate contamination using laminar airflow.
In addition to our trusted ductless equipment, Air Science is an industry thought leader. The Air Science website at airscience.com includes a growing library of literature, white papers, and application notes associated with using ductless fume hoods in life science, forensics, pharmaceutical, animal research, and industrial and commercial markets.