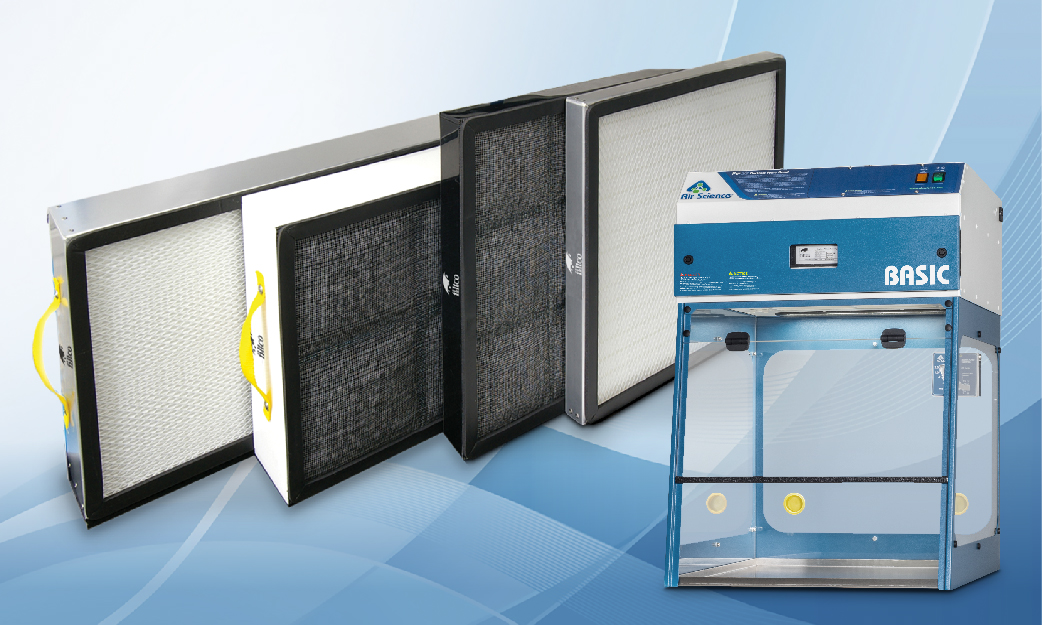 Proper maintenance of ductless fume hoods starts with a solid filter replacement schedule. Over time, filters become saturated with the chemicals they're designed to intercept. If the filters are not changed regularly, dangerous fumes and vapors will pass through and return to the work area posing a risk to workers and the laboratory. HEPA and ULPA filters can also become saturated with particulates which reduces their ability to mitigate a biological hazard. Air Science ductless fume hoods are designed to encourage frequent filter replacement under safe working conditions that protect personnel and the environment.
All filters are accessible from the front, including carbon filters and HEPA/ULPA filters if used as secondary protection.
No tools are required for removal and replacement on most Air Science hoods.
Filter doors are keyed to prevent unauthorized access.
Filters conveniently slide into or out of the plenum on rollers which move on a cam action track that automatically seals the filter against a peripheral gasket to protect the filter and create a proper airflow path.
Electrostatic pre-filters used on our fume hoods are accessible from the inside of the work surface and can be replaced easily, without tools, even while the fume hood is operating. These filters are 91% effective to 1-3 microns.
A filter identification window shows the installed filter part number and installation date to simplify ordering and replacement scheduling.
Proper Disposal of Used FiltersIn general, while used carbon filters and HEPA filters can be disposed of in approved landfills, it is important to check with your laboratory safety officer in advance of filter disposal.
Local codes may also determine how your used filters should be disposed. Local waste management and/or biomedical waste service providers can also be contacted.
HEPA and ULPA filters must be disposed of according to laboratory safety officer directives and local codes. In some cases, autoclaving may be required before removing filters from the facility.
Secur™ Safe Disposal Service (currently available in the United Kingdom)Our Secur Safe Disposal Service allows you to dispose of saturated filters responsibly during your annual service visit. Used filters are properly treated at the Violia UK Treatment Facility which specializes in secure destruction and recycling. SafeSwitch HEPA Filter Shutter SystemThe Air Science® SafeSwitch HEPA Filter Shutter System is an optional bag-out contaminate containment system that enhances operator safety during HEPA filter changes by minimizing exposure to filter contaminants when removing used filters and inserting replacements. Replacement Filter QualityWhile cheap replacement filters may seem like a benefit due to cost savings, low-quality replacement filters, including aftermarket, homemade or DIY carbon filters, are dangerous. Cheap replacement filters not only jeopardize safety by creating undetected workplace hazards, they can also void your equipment's manufacturer warranty. Air Science manufactures quality, activated carbon filters which are marketed through Filtco Filters, an authorized producer of replacement carbon filters that comply with the requirements of more than 25 major ductless enclosure manufacturers.