The Purair® NANO ductless enclosure is designed to contain nanoparticles and fine powders of <100 nm. The stainless steel infrastructure,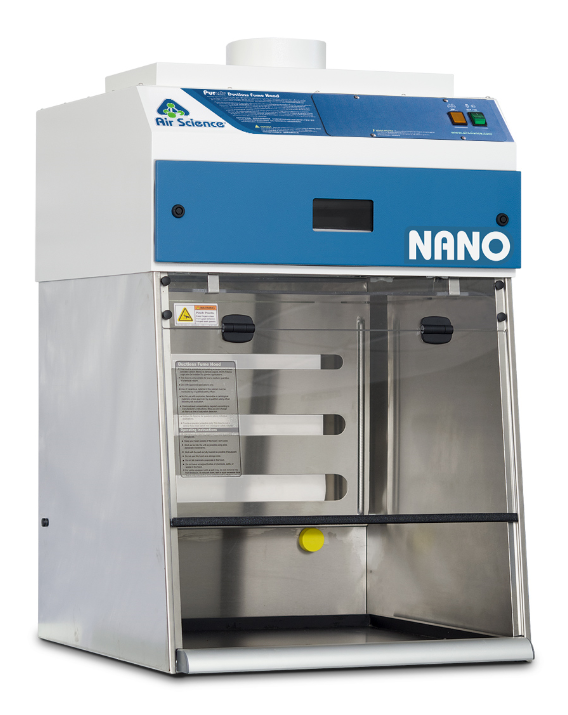 powder-coated fan filtration unit and dual filtration options assure superior containment and maintenance of a safe work surface. When it comes to making the eco-friendly choice, two new energy efficiency features–energy saving LED lighting and a high efficient ebm-papst EC blower-bring additional savings to Purair NANO.
The single EC blower motor maximizes operational savings, lowers noise and minimizes vibration, lowering the total cost of ownership and promoting long life and dependable performance.
Additional Key Features:
Protects the operator from nanomaterial particle hazards, includes an optional SafeSwitch™ Filter Shutter System for safer bag-out filter exchange
Improved filter clamping eliminates bypass leakage
Low airflow alarm
Eco-friendly ductless technology
The Multiplex™ Filtration System in the NANO consists of a pre-filter, HEPA filter, with optional ULPA filter and/or supplemental carbon filter. HEPA/ULPA filtration combined with a supplemental activated carbon filter maximizes the number of particles captured through Brownian diffusion. The mechanical design enhances safety, convenience and overall value.
Purair NANO hoods are available in three standard sizes, view our Purair NANO models and learn more about our energy saving features and benefits.