Product Search Results
Models are electrically specific as indicated by the last letter. Model number suffix "-A" is 60Hz. Model number suffix "G" is 50Hz. Example: Model P10-A is a 60Hz unit.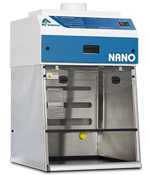 Protects the operator from nanomaterial particles (less than 100nm in size) encountered during processing of carbon nanotubes, lithium batteries, and rare earth metals.
Purair NANO Ductless Nanoparticle Containment Enclosures