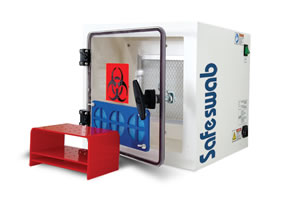 Air Science has introduced a selection of drying cabinets developed for safe and secure drying of evidence associated with sexual assault incidents including rape kits and biological samples acquired by authorized medical personnel under law enforcement supervision.
Air Science Safeswab Swab Drying Cabinets protect specimens from cross-contamination and bacterial or mold growth.
Throughout America, many state legislatures are reforming requirements for acquisition and testing of sexual assault kits due to high numbers of backlogged, untested, kits in crime labs nationwide.
While legislative updates vary widely from state to state, these reforms typically cover the entire chain of custody which will expand criteria for maximum storage time and processes for hospitals, law enforcement and the testing facility.
Safeswab dryers, part of the Air Science Safekeeper® series, can be used at any stage within the chain of custody to ensure evidence protection. Hospitals can protect evidence collected during sexual assault examinations. Law enforcement and crime labs can similarly use Safeswab dryers for the preservation of swabs collected in sexual assault kits or for the preservation of DNA or biological evidence collected on swabs.
Click here for more information.