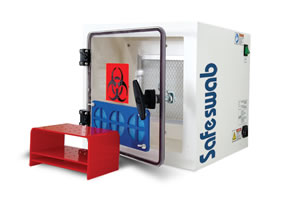 The Safeswab is a special purpose evidence drying cabinet designed to safely dry swabs used to gather blood, DNA and trace chemical evidence at crime scenes. Part of the Safekeeper
®
Forensic Drying Cabinet product line, the Safeswab incorporates features that help maintain the chain of custody while ensuring accurate forensic results. The
HEPA/ULPA
main filter is formulated to contain any particulates or biological material that might be present on swabs, providing added protection for technicians during evidence processing.
Safeswab Features & Benefits
Horizontal airflow geometry.
Effective protection to personnel from particulate hazards.
Controlled airflow to dry items of evidence in the cabinet.
Lockable doors for security.
Safe and easy to change HEPA/ULPA filters.
Product Features:
A. Filtration.
HEPA/ULPA
main filter traps particulates and biological material.
B. Airflow. Horizontal airflow geometry.
C. On/Off Switch: Manual On/Off fan switch (FDC-001 only).
D. Swab Holder: 15 or 30 swab capacity.
E. Design Options. Available in tabletop or mini configurations.
F. Clear Door. Clear, gasket-sealed door latches securely to thoroughly contain all contaminants.
Featured Safeswab Models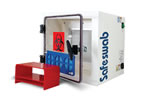 FDC-001
30 swab capacity drying cabinet
115V, AC, 50/60Hz
220V, AC, 50/60Hz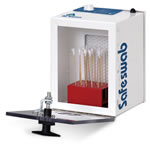 FDC-001M
15 swab capacity drying cabinet
115V, AC, 50/60Hz
220V, AC, 50/60Hz