With Air Science, you can give the world your work and a better environment.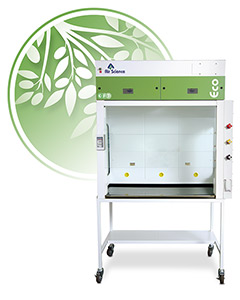 Thanks to the research, dedication and expert engineering at Air Science, environmental consciousness is possible even in an industry filled with toxic and volatile chemicals.
Whether you're a company at the forefront of exciting life science discoveries, a research technician handling hazardous vapors, or a pharmaceutical company developing medicine that will save lives, ductless fume hoods by Air Science provide your company with a way to increase productivity and decrease environmental impact.
Our ductless fume hoods benefit your company and the environment by:
Eliminating the need for costly installation of extensive HVAC work
Filtering hazardous materials, rendering them obsolete instead of venting dangerous elements into the environment
Decreasing the recurring HVAC costs by recirculating treated air

Consider utilizing one of our Purair ECO Ductless Fume Hoods for optimal environmental protection. Contact Air Science today for more information about our environmentally friendly units or to receive a custom quote.