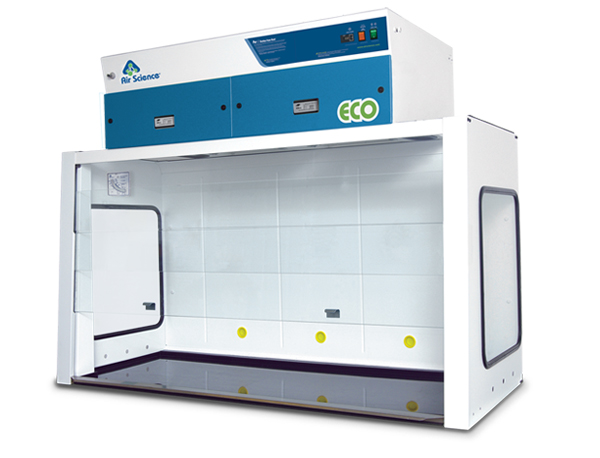 The Purair® ECO Series ductless fume hoods are designed to protect the user and the environment from hazardous vapors generated on the work surface. Central to the ECO Series design is the innovative Air Science® Multiplex™ Filtration Technology and our exclusive EFT™ Enhanced Filtration Technology developed to assure universal protection in the work environment over the widest range of applications in the industry.
Purair ECO Fume Hoods Features and Benefits
Purair ECO ductless cabinets are available in five standard sizes, in metal or optional polypropylene construction.
A high capacity air handling system delivers face velocity of 100 FPM.
Improved clamping prevents bypass leakage.
Ergonomic arm rest for user comfort.
The filter assembly is easy to access, easy to change.
Product Features:
A. Filter I.D. Window: A convenient, strategically placed front cover window shows the installed filter part number and installation date; encourages timely filter replacement.
B. Steel Support Frame: The chemical resistant epoxy coated steel frame adds mechanical strength. Optional all polypropylene construction is available if desired; see accessories.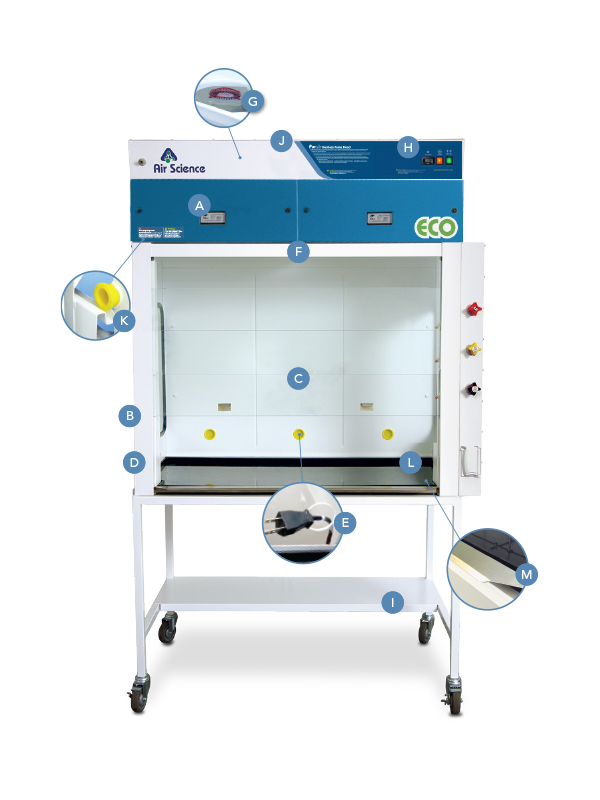 C. Tempered Glass Siding Sash: When closed, the cabinet sash protects the contents from inadvertent external contact and better isolates the air from within. The sash is easy to open and close.
D. Tempered Glass Side Walls: Clear side panels allow ambient light into the work area and provide a less obstructed view of the work surface.
E. Pass-Thru Ports: Electrical cords and cables are safely routed into the cabinet through ports on the back.
F. Electrostatic Pre-Filter: The electrostatic pre-filter is accessible from inside the chamber and 91% effective down to 1-3 microns.
G. Dynamic Filtration Chamber: The dynamic filter chamber prevents any possible leakage of contaminated air by pressurizing the fan plenum (positive air) and depressurizing the filter compartment (negative air).
H. Internal Manual Speed Controller: Authorized personnel may set the EC motor speed as desired.
I. Stand: Optional mobile cart with locking casters.
K. Track and Wheel system: The filter glides in on a wheel and track system, then clamps tightly against the filter gasket to prevent filter tears and maintain filter integrity.
L. Spillage Tray: A black polypropylene spillage tray is removable for easy cleaning.
M. Ergonomic Arm Rest: An ergonomic arm rest improves user comfort and productivity.
Other Features:
Environmental Benefits: Air Science ductless fume hoods isolate and trap chemical vapors to prevent ecological impact through release into the environment.
Versatile:
Each filtration system is selected for its specific application.
Carbon filters
are available in more than 14 configurations for use with vapors of organic solvents, acids, mercury, and formaldehyde.
HEPA/ULPA filters
can be added for biological safety.
Easy to Install: The ductless fume hood is self-contained and does not require venting to the outside. Many units are portable and may be moved with minimal downtime and without filter changes. Set-up, operation, and filter maintenance are straightforward.
Energy Efficient: Because filtered air is returned to the room, no demands are required of the facility HVAC and construction costs are eliminated.
Cost Effective: Facility ductwork. HVAC and construction costs are eliminated.
Safe to Use: Cabinet airflow and face velocity protect useres from incidental exposures to fumes.
Self-Testing: (select models) Electronic airflow monitoring assures continuous safety. An electronic gas sensor monitors carbon filter performance.
Construction: All models are available in either metal or polypropylene construction. Available in 120V, 60Hz and 230V, 50Hz models.
Featured Purair ECO Models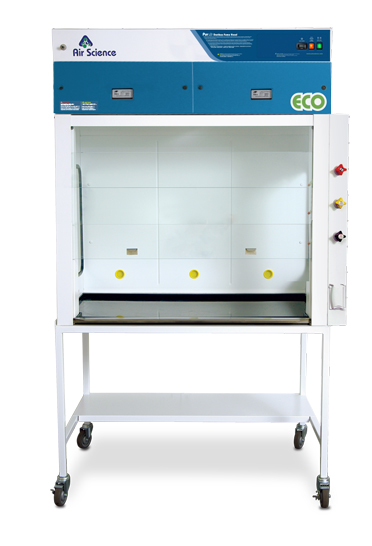 ECO-20
Ductless fume hood, 49"W
115V, AC, 50/60Hz
220V, AC, 50/60Hz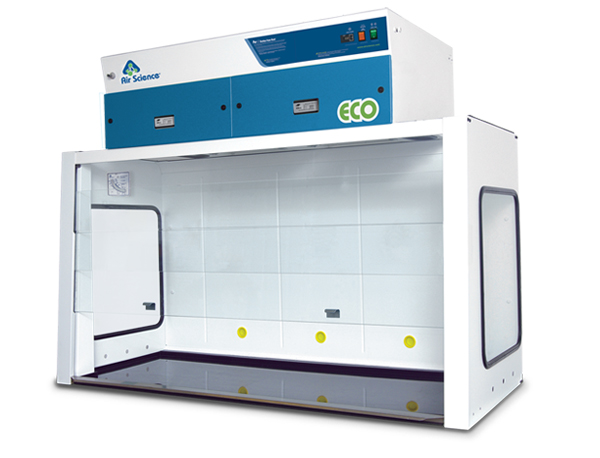 ECO-25
Ductless Fume hood, 59"W
115V, AC, 50/60Hz
220V, AC, 50/60Hz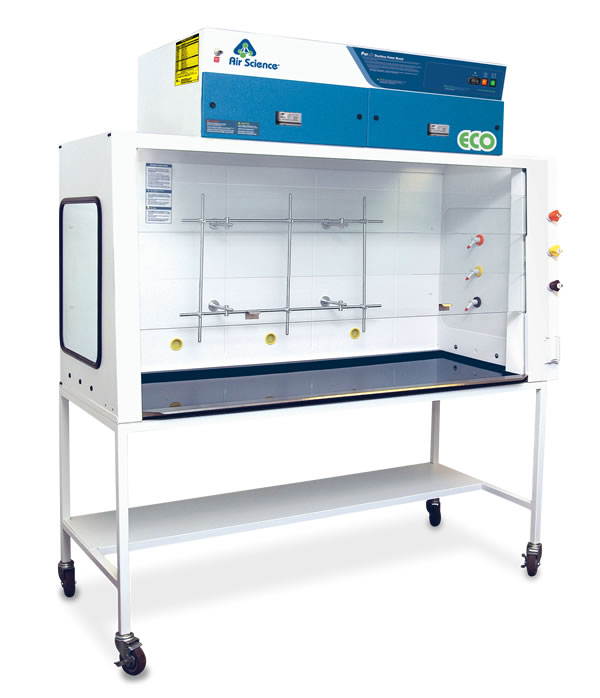 ECO-30
Ductless fume hood, 69"W, with optional base stand with casters, utility module and equipment rack
115V, AC, 50/60Hz
220V, AC, 50/60Hz