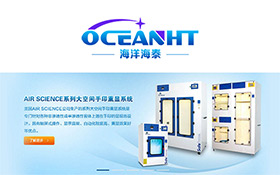 Air Science is pleased to announce the renewal of its distribution agreement with Chinese distributor, Beijing Ocean Hi-Technology Co., Limited.

After experiencing a successful partnership through the distribution of the SafeFume Cyanoacrylate Fuming Chambers, Ocean is once again joining with Air Science for contractual product distribution. As an exciting result of their own growth, they are also expanding their product offerings to a wider range of forensic products manufactured by Air Science.

Ocean now serves as the exclusive dealer and service provider throughout China and Hong Kong for all Air Science forensic products.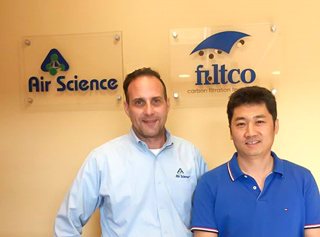 This partnership was renewed and expanded with Ocean manager, Haibo Gao (Eric), during his recent visit to Air Science's North American Headquarters in Fort Myers, Florida.
Thank you, Beijing Ocean Hi-Technology Co., Limited, for your continued business and support. We look forward to many more successful years of partnership.
继续与中国经销商合作
17年5月5日
海洋科技与空气科学公司荣幸地宣布与中国经销商北京海洋科技有限公司签订分销协议。
在通过分销SafeFume氰基丙烯酸酯Fuming Chamber进行成功合作之后,Ocean再次与Air Science合作进行合同产品分销。作为自身发展的令人激动的结果,他们也将产品扩展到由Air Science制造的更广泛的法医产品。
海洋现在是全中国和香港的独家经销商和服务提供商,为所有空气科学取证产品。
海洋科技与航空科学这个合作伙伴关系由海洋经理海宝高(Eric)在最近访问佛罗里达州迈尔斯堡的北美空中科学总部时重新扩大。
感谢北京海洋科技有限公司的持续业务和支持。我们期待着更多成功的合作伙伴关系。
继续与中国经销商合作
17年5月5日
海洋科技与空气科学公司荣幸地宣布与中国经销商北京海洋科技有限公司签订分销协议。
在通过分销SafeFume氰基丙烯酸酯Fuming Chamber进行成功合作之后,Ocean再次与Air Science合作进行合同产品分销。作为自身发展的令人激动的结果,他们也将产品扩展到由Air Science制造的更广泛的法医产品。
海洋现在是全中国和香港的独家经销商和服务提供商,为所有空气科学取证产品。
海洋科技与航空科学这个合作伙伴关系由海洋经理海宝高(Eric)在最近访问佛罗里达州迈尔斯堡的北美空中科学总部时重新扩大。 感谢北京海洋科技有限公司的持续业务和支持。我们期待着更多成功的合作伙伴关系。