In the past, going ductless used to mean choosing easy installation and portability while compromising on chemical range. Air Science® gives you all the benefits of going ductless with the flexibility to capture a wide range of chemical families in a single fume hood.
Working safely in a single fume hood saves time, money, resources and valuable laboratory space. Air Sciences uses a variety of filtration technology to allow ductless fume hood customization for the safe capture of a wide variety of chemical families. Enhanced Filter Technology (EFT) enables specific filters to be built to meet highly individualized application needs. Multiplex™ Filtration Technology achieves an even greater application range by using a pre-filter, main filter and optional safety filter. Main filters can be stacked, mixed, for one or more chemical families, or combined with HEPA or ULPA to contain both vapors and particulates.
Benefits Comparison
| | | |
| --- | --- | --- |
| Benefit | Ductless | Ducted |
| Operator Safety | ✓ | ✓ |
| Suitable for wide range of chemicals/applications | ✓ | ✓ |
| Easy operation | ✓ | ✓ |
| Easy Installation | ✓ | X |
| Portable1 | ✓ | X |
| Energy efficient | ✓ | X |
| Low/no environmental impact | ✓ | X |
| Economical | ✓ | X |
1 Many models are portable and can easily be relocated within the laboratory.
Ductless fume hoods are designed with numerous features to ensure the continued safety of laboratory personnel. Low airflow alarms used in Air Science ductless fume hoods ensure the proper containment of fumes inside the hood. Filter saturation alarms monitor breakthrough concentrations and alert the operator to replace the filter, helping to maintain near-zero chemical emissions in recirculated air. Operator safety is further enhanced through backup safety filters which protect against filter malfunction or saturation.
Air Science manufactures a complete series of high-efficiency ductless fume hoods, ductless workstations, laboratory filtration products and custom enclosures that are designed to protect the user, the process and the environment from hazardous vapors, fumes and particulates.
For more information, download our free eBook Ducted Vs. Ductless Venting Options: The Benefits of a Ductless Laboratory or read our ducted versus ductless fume hoods brief.
Resources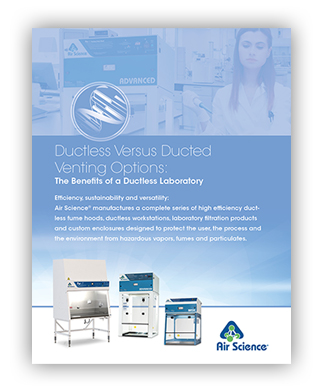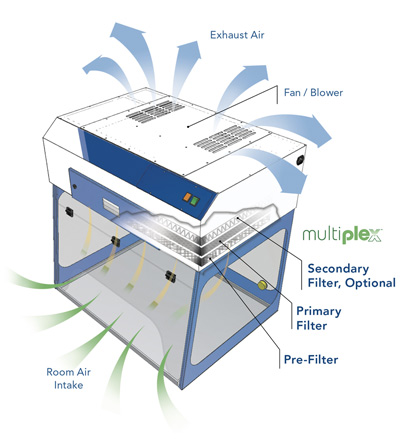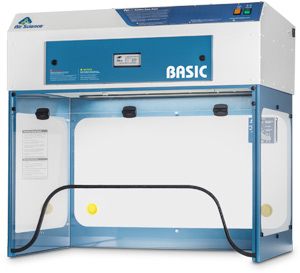 Versatility, Efficiency and Safety: Portable and Benchtop Ductless Fume Hoods