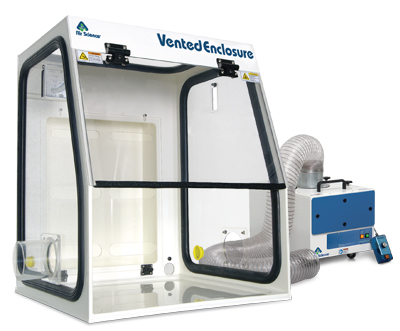 During manipulation and transfer of potent compounds, Air Science® Vented Enclosures deliver effective, reliable protection, addressing analytical needs in the laboratory. Ideal for containment of powders and fumes during compounding or weighing, Vented Enclosures offer important safety features not found in competitive products. Cabinet airflow and face velocity protect users from incidental exposures to fumes. Internal systems are isolated from fumes, extending product life.
The turbulent free design combined with versatile carbon/HEPA filtration delivers precise protection in all applications, while the environmentally friendly ductless technology requires no venting to the outside or changes to the HVAC system, eliminating construction costs. Energy efficiency is displayed as filtered air is returned to the room, making no demands upon the facility HVAC capacity for make-up air. Isolating and trapping chemical vapor to prevent release into the environment, ductless technology offers a high-performance alternative to conventional ducted fume hoods. Many of these self-contained units are portable and may be moved with minimal downtime and without filter changes. Set-up, operation and filter maintenance are straightforward.
Performance specifications and construction meet or exceed OSHA, ANSI and relevant international standards to assure operator safety. Safebridge Consultants have verified and confirmed performance of Air Science Vented Enclosures in controlling airborne concentrations of particulate powder.
Key Features
Turbulent-free airflow pattern.
Ductless design increases location possibilities.
Specialized HEPA filter technology for increased safety.
Proven performance.
Easy to change filtration system.
Custom sizes to meet every need.
Applications
Bulk Powder Weighing and Transfers
Task-Specific Workstations
Short Duration Projects
Balance and Microscope Enclosure
Robotics
Compounding Activities
Click here to learn more.