Our Purair® RX protects you from the smallest particle and powder, designed specifically for applications in pharmaceutical, biotechnology and compounding laboratories, providing maximum containment of hazardous particulates and powders created on the work surface.
Key Features:
• High efficiency ebm-papst EC blower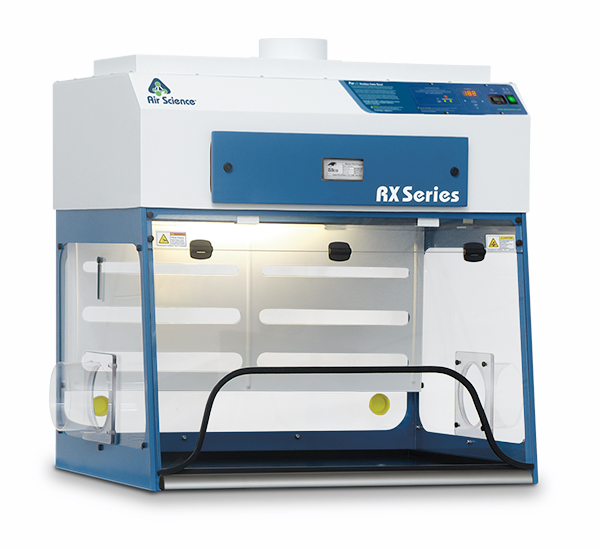 • Energy saving LED lighting
• Protects the operator from powder and particle hazards
• Improved filter clamping eliminates bypass leakage
• Exhaust canopy allows for thimble ducting to the facility exhaust system
• Low airflow alarm
• Complies with USP 800 and USP 795 guidelines
Additional Features:
360 Degree Visibility: Clear back and side panels allow ambient illumination into the chamber and provide users with an unobstructed view of its contents. This also helps eliminate operator fatigue.
Standards Compliant: Performance specifications and construction meet or exceed OSHA, ANSI and relevant international standards to assure operator safety. Purair RX enclosure hoods are USP 800 and USP 795 compliant.
Construction: All models are available in either metal or polypropylene construction. See selection chart for specifications and dimensions. Specify metal or polypropylene when ordering. Available in 120V, 60Hz or 230V, 50Hz models.
SafeSwitch Filter Shutter System: (Optional) A unique filter shutter system closes the exposed filter media face and minimizes exposure to the contaminated filters, protecting the operator and the environment.
Explore our Purair RX Ductless Balance Enclosures and the benefits of using a balance enclosure.