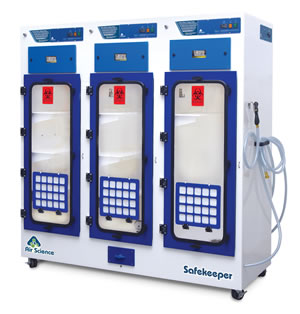 Safekeeper® Series Special Purpose Forensic Evidence Drying Cabinets provide a tamper-resistant, controlled environment in which to dry and process forensic evidence, permitting the chain of custody to remain intact. These special purpose cabinets address unique applications such as handling potentially toxic materials and maintaining the integrity of evidence swabs, as well as providing an effective, dependable method of transporting forensic evidence from field to laboratory. The Safekeeper Series dries and processes forensic evidence by a constant flow of air, incorporating Air Science® ductless technology to remove airborne fumes and odors emitted by the contents. Using innovative Multiplex™ filtration technology combining optional HEPA/ULPA filtration for pathogen and particulate control, the forensic evidence drying cabinet creates a safe work environment over the widest range of applications in the industry.
Applications
State and Federal Crime Laboratories
Medical Examiners and Coroners
Law Enforcement Agencies
Hospital Emergency Rooms
Drug Agencies
Special purpose forensic evidence drying cabinets, designed for specific and unique evidence applications, are available in Safekeeper, Drugkeeper, Safeswab and Evidence Transporter models, in a variety of sizes and configurations. Functional performance to meet specific applications may be added through options and accessories. Safekeeper Special Purpose Forensic Evidence Drying Cabinets are an ideal choice for situations with unique evidence transportation and processing applications requiring a controlled environment and chain of custody maintenance.
The Drugkeeper series is designed to isolate potentially toxic evidence, providing safe, short-term storage of confiscated hazardous chemicals and other substances typically associated with drug investigations. The Drugkeeper minimizes health and environmental risks when dealing with chemical vapors, residues, VOCs and other materials related to methamphetamine production, marijuana and other narcotics.
The Safeswab horizontal airflow cabinet is useful for protecting biological evidence collected on swabs from external contaminants and personnel in the working environment. Safeswab safely dries evidence swabs while protecting them from cross-contamination using an optional HEPA main filter formulated to contain particles or biological material that may be present.
The Evidence Transporter™, an on-site fabric chamber developed for transporting evidence from the field to the lab, is designed to maintain the integrity and credibility of the collected evidence. It ships and stores knocked down for compact storage, but is quickly field assembled when needed, incorporating Texilene™ mesh fabric to conceals unsightly material from display. This special purpose basic evidence transporter and storage cabinet maintains the chain of custody during transport from the field to the laboratory while permitting effective air drying prior to evidence processing.
Key Features
Versatile. Each filtration system is selected for its specific application. Carbon filters are available in more than 14 configurations for use with vapors of organic solvents, acids, mercury and formaldehyde. HEPA/ULPA filters can be added for biological safety.
Safe to Use. Cabinet airflow and face velocity protect users from incidental exposures to fumes.
Cost Effective. Facility ductwork, HVAC and construction costs are eliminated.
Environmentally Beneficial. Isolates and traps chemical vapors to prevent ecological impact through release into the environment.
Easy to Install. Ductless unit is self-contained and does not require venting to the outside. Many units are portable and may be moved with minimal downtime and without filter changes. Set-up, operation and filter maintenance are straightforward.
Energy Efficient. No demands are required of the facility HVAC capacity for make-up air since filtered air is returned to the room.
Self-Testing (select models). Electronic airflow monitoring assures continuous safety. An electronic gas sensor monitors carbon filter performance.
Click here to learn more.