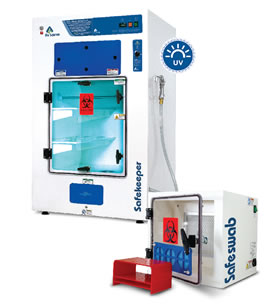 Safekeeper® series forensic evidence drying cabinets are designed to store, dry or otherwise process forensic evidence in the controlled environment of a tamper resistant compartment to maintain the chain of custody.
The industry leading
Multiplex™ filtration system
, combined with professional design and construction offer convenience and protect the safety of personnel during use, maintenance and decontamination of the cabinets.
Safekeeper Forensic Evidence Drying Cabinets provide cost-effective storage and containment for forensic evidence as it is dried by a constant flow of air. Air Science ductless technology removes airborne pathogens, particulates, fumes and odors emitted by the contents. Using innovative filtration technology, the forensic evidence drying cabinet creates a safe work environment over the widest range of applications in the industry.
Safekeeper Features & Benefits
Safekeeper forensic evidence drying cabinets provide cost-effective storage and containment for forensic evidence as it is dried by a constant flow of air. Air Science® ductless technology removes airborne pathogens, particulates, fumes, and odors emitted by the contents.
General Purpose Series Drying Cabinets:
General Purpose Safekeeper cabinets are available in bench/desktop and floor-standing models. Select models are available with two, three or four independent drying chambers, each with its own filtration and control system.
Most models are designed and configured for mobile use in uncontrolled environments.
Special Purpose Series Drying Cabinets:
The Drugkeeper series is designed for safe storage of confiscated hazardous chemicals and illegal drugs.
The Safeswab horizontal airflow cabinet is useful for protecting biological evidence collected on swabs from external contaminants and personnel in the working environment.
The Evidence Transporter™ is an "on-site" fabric chamber developed for transporting evidence from the field to the lab.
Product Features:
A. Filter I.D. Window: A conveniently, strategically placed front cover window shows the installed filter part number and the installation date to encourage timely filter replacement.
B. Filter Door Key: Filter access key prevents unauthorized removal or accidental exposure to dirty filters.
C. Control Panel: Electronic controls and displays include switches for the blower and lights, an electronic hour counter and filter blockage alarm, all located on a convenient front surface panel.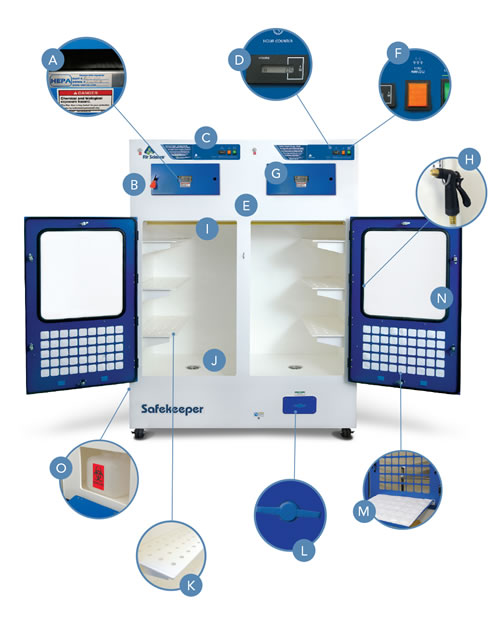 D. Hour Counter: Assists in tracking evidence drying time.
E. Internal Manual Speed Controller: Authorized personnel may set the centrifugal fan motor speed as desired.
F. Filter Blockage Alarm: Continuously monitors filter loading and alerts user when service is needed.
G. Dynamic Filtration Chamber: The dynamic filter chamber prevents any possible leakage of contaminated air by pressurizing the fan plenum (positive air) and depressuring the filter compartment (negative air).
H. Outside Sidewall Hose: Connects to external water supply, located to avoid tripping hazard.
I. Hanging Rod: All General Purpose and Downflow models have removable stainless steel hanging rod with anti-slide cover.
J. Drain: Central 1.5" bottom drain with anti-siphon trap and strainer to capture contaminants in waste water stream.
K. Push-Pull™ Shelving: All General Purpose models have three perforated polypropylene Push-Pull shelves with drain channel that can be installed and removed with one hand and may be stored within or outside the cabinet, two included with Downflow unit.
L. Drain Valve: Manual open and close drain valve.
M. Electrostatic Pre-Filter:
All pre-filters (doors and main) are changed quickly without tools and are of a standard size for simple stocking and ordering. Optional
HEPA filter
available.
N. Doors: Blue metal framed tempered glass doors with key lock and tamper proof seal provide improved security, stability and ease of cleaning.
O. Built-in Containment Compartment: Adheres to Occupational Safety and Health Administration (OSHA) Standards 29 CFR 1910.1030 regarding bloodborne pathogens.
Other Features:
Construction: All models are available in polypropylene construction. See selection chart for specifications and dimensions. Available in 120V, 60Hz or 230V, 50Hz models.
Optional UV Lamp: Activated ultraviolet light creates light emission conditions known to provide secondary disinfection of the interior between cases to prevent cross contamination, ensuring integrity of the samples for DNA testing.
Featured Safekeeper Models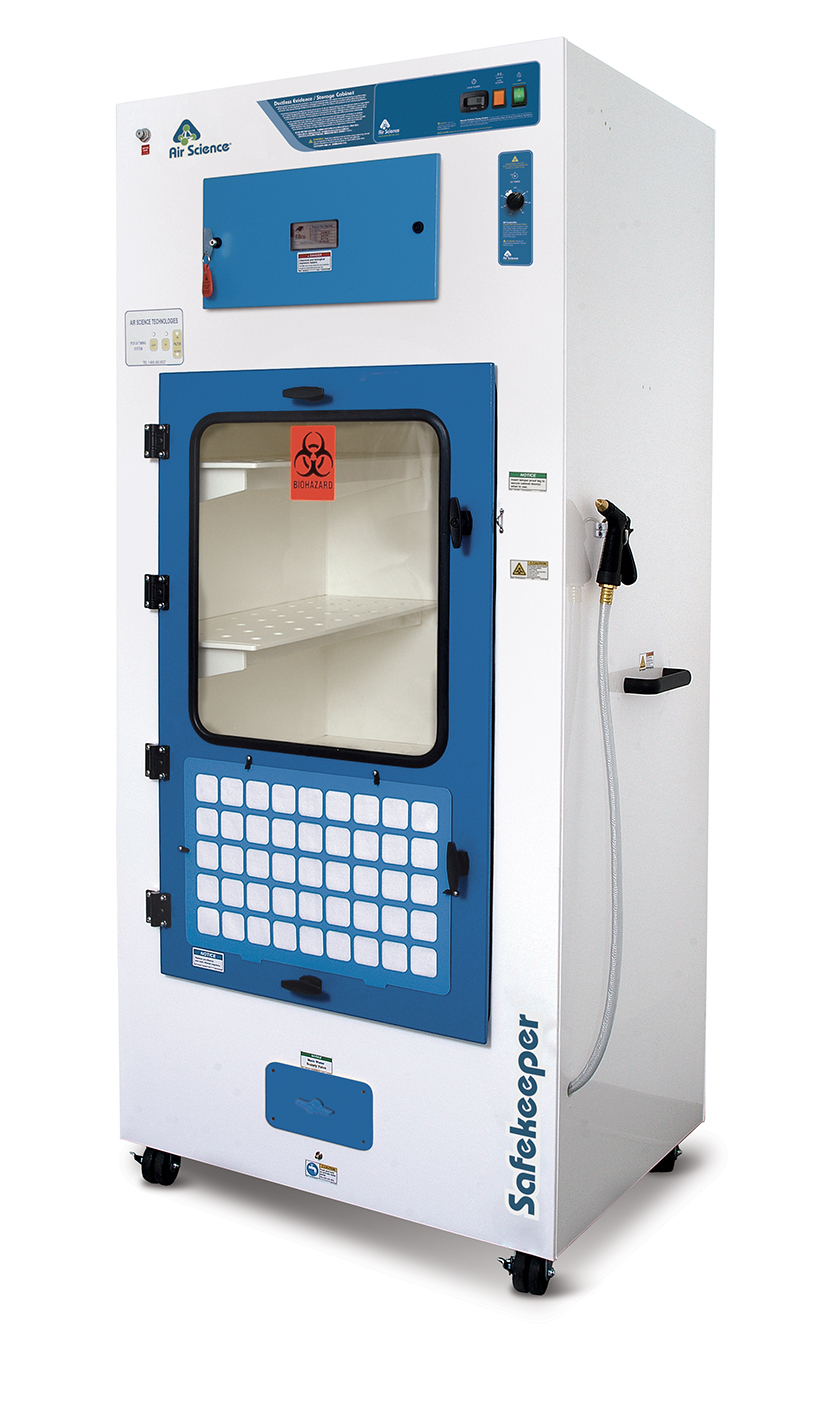 FDC-006XT
Single chamber drying cabinet, 36"W
115V, AC, 50/60Hz
220V, AC, 50/60Hz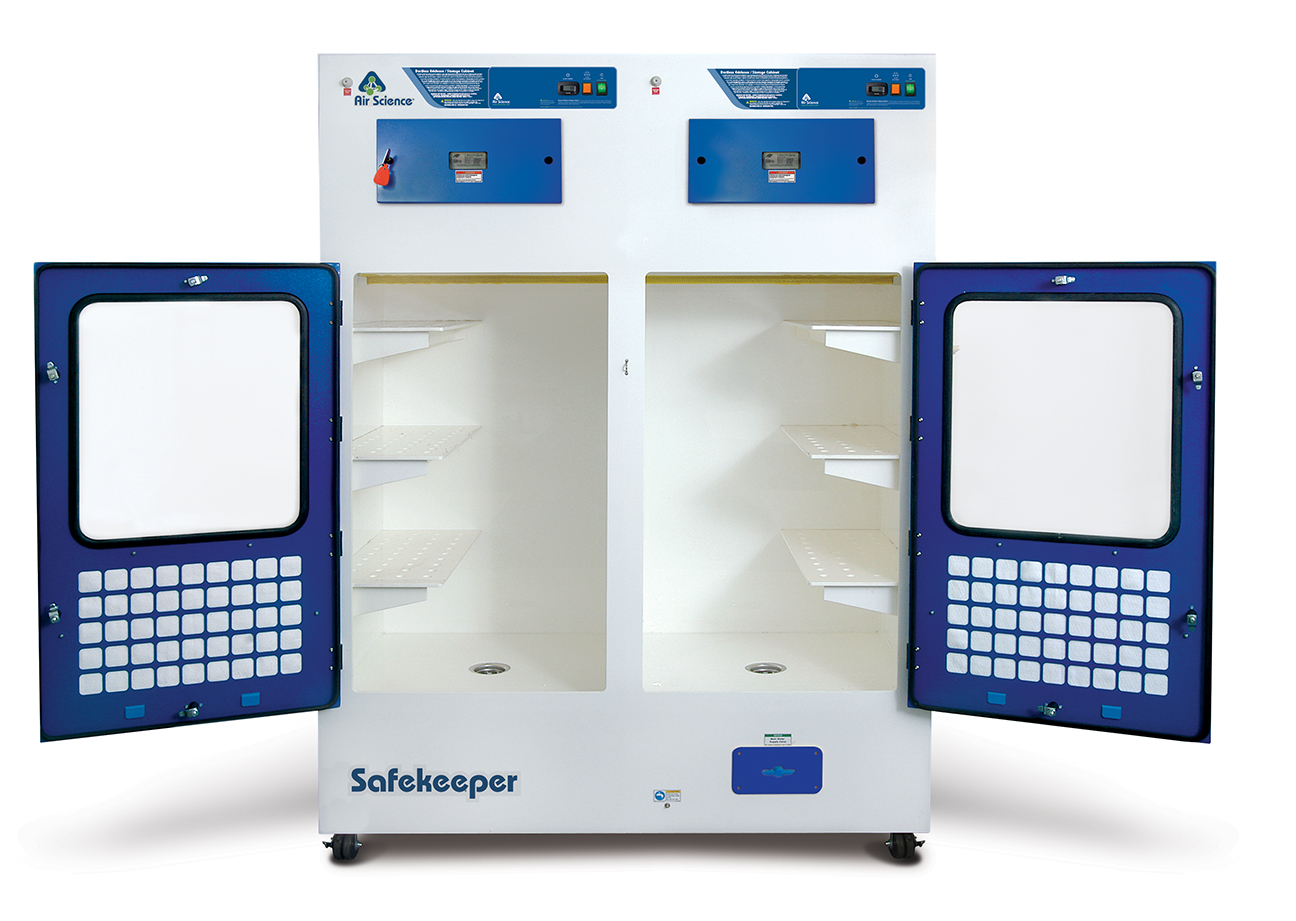 FDC-007D
Multi-Chamber drying cabinet, 48"W
115V, AC, 50/60Hz
220V, AC, 50/60Hz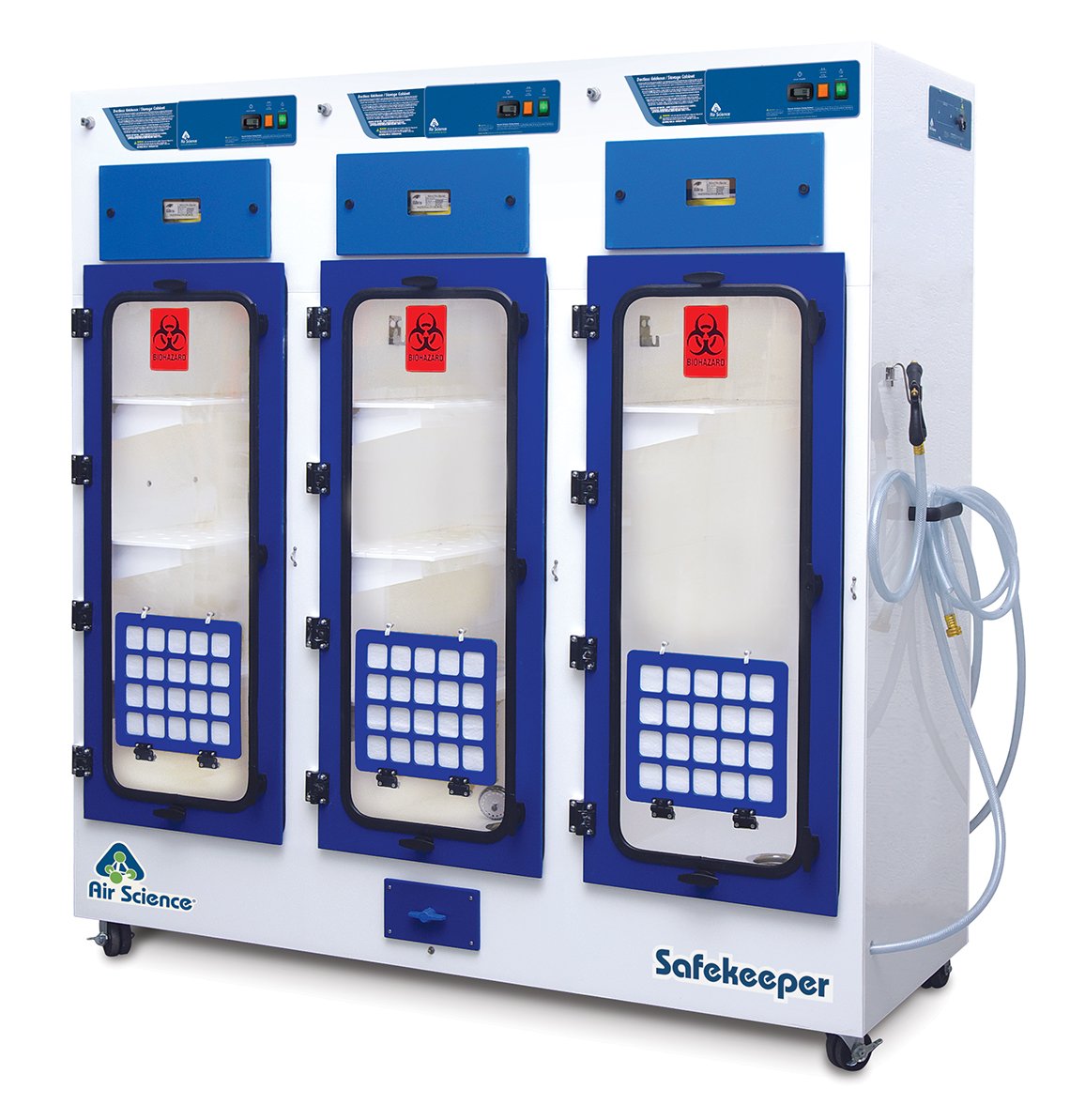 FDC-010-TRI
Multi-Chamber drying cabinet, 72"W
115V, AC, 50/60Hz
220V, AC, 50/60Hz