Purair® FLOW series laminar flow cabinets, designed to protect your work surface, products and materials from particulate contamination,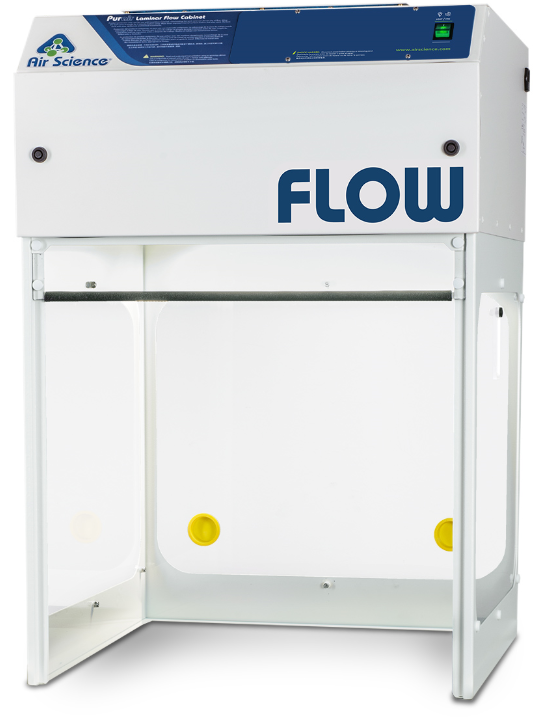 includes two new energy efficient features–energy saving LED lighting and a high efficiency ebm-papst EC blower.
The single EC blower motor maximizes operational savings, lowers noise and minimizes vibration, lowering the total cost of ownership and promoting long life and dependable performance.
Additional Key Features:
Large front opening provides unrestricted access to the work zone
Vertical laminar flow with HEPA filtration
Air cleanliness meets and exceeds ISO Class 5
Provides sterile work zone for aseptic techniques
The Purair FLOW Series product line employs the Air Science Multiplex™ HEPA Filtration technology to sustain a contamination-free environment. HEPA filtered air passes uniformly through the cabinet interior via vertical laminar flow. The airflow is oriented to prevent introduction of airborne particulates during normal use. Air Science uses long-life HEPA filters without aluminum separators to increase filter efficiency, minimize the potential for leakage and increase filter life.
Air Science FLOW cabinets are expertly designed to meet specific applications and certified for quality construction. Standard features, options and accessories are developed purposefully to enhance user-friendliness.
Purair FLOW cabinets are available in three model sizes with various options. Designed for desktop use or for installation on an optional base stand or mobile cart.
View our Purair FLOW models and learn more about our energy saving features and benefits.