Product Search Results
Models are electrically specific as indicated by the last letter. Model number suffix "-A" is 60Hz. Model number suffix "G" is 50Hz. Example: Model P10-A is a 60Hz unit.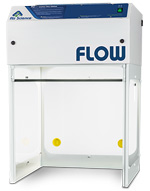 The Purair FLOW Series vertical laminar flow cabinets are compact and are ideal for use in laboratory environments where space is limited. They are designed to use HEPA filtration to protect equipment and other contents of the work zone from particulates.
Purair FLOW Laminar Flow Cabinet