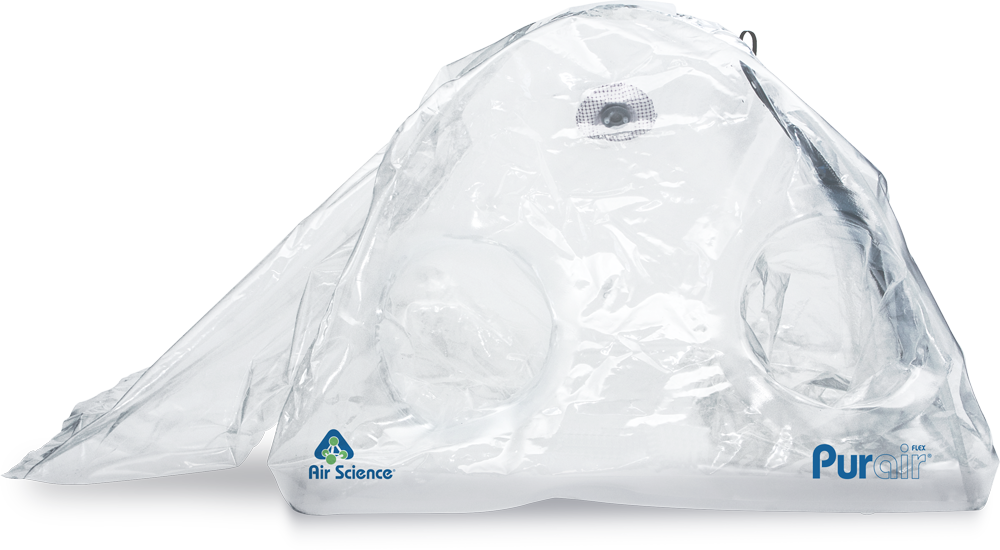 The Purair® FLEX is a revolutionary containment product that expands where, when and how glove bags can be used. Flexible and highly portable, the Purair FLEX permits easy set up and delivers superior containment capability. The ArmorFlex® film construction assures visual clarity and excellent solvent resistance across a range of chemicals.
Key Features:
• Spacious Interior Volume. An innovative curved film design provides more working volume than any other glove bag on the market.
• Easy Setup. Semi-rigid support rods simplify set up and increased stability even if the bag is not inflated to full pressure.
• Large Workspace. At 30″ (762 mm) wide and an internal volume of 3 cu.ft. (85 L) the Purair FLEX provides a large work area with a 12.5″ (317 mm) gas tight zippered access with a 6″ (152 mm) diameter opening.
• Oxygen-Free Work Zone. A nitrogen gas feature to permit creation of an oxygen-free workspace.
Performance Advantage
Air Science provides containment solutions to meet any analytical need. The Purair FLEX glove bag provides numerous performance advantages over the competition including:
• Compliant with Multiple Criteria. ArmorFlex film complies with FDA 21 CFR and 2002/72/EC standards for minimal outgassing, solvent and biological reactivity and static resistance.
• Pharmaceutical Grade Materials. The Purair FLEX is constructed with FDA approved pharmaceutical grade LLDPE1 anti-static and ESD2 safe and meets European ATEX Directive.
• Standard Features. Closed HEPA filtration, bag-in/bag-out port and Nitrogen purge inlet connections enhance safety to meet specific needs.
• Bag-In/Bag-Out Port. A 14″ (355 mm) x 24″ (609 mm) bag-in/bag-out minimizes exposure to contaminants when changing the filter. The contaminated filter is safely removed through the port and placed into a bag, sealed with a reusable cable tie, and disposed. A new bag is affixed to the port when the replacement filter is installed.
The Purair FLEX glove bags for containment are used in pharmaceutical processing, forensic investigation and processing, industrial cleaning, biological containment and in the aerospace industry.