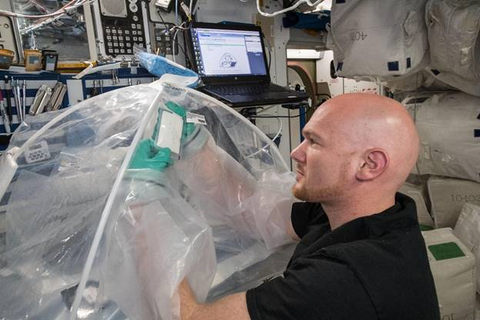 Courtesy of NASA/Popular Mechanics The first cement solidification tests performed in a microgravity environment recently took place on the International Space Station (ISS) using the Air Science® Purair FLEX Portable Isolator. The Microgravity Investigation of Cement Solidification (MICS) project explored the complex prosses of whether solidifying cement in microgravity would result in unique microstructure differences to concrete processed on ground, seeking to understand if gravity affects the process of making concrete.
Observations of how cement reacts in space during the hardening process may help engineers better understand its microstructure and material properties, which could improve cement processing techniques on Earth and lead to the design of safe, lightweight space habitats. Since concrete is the most widely used building material on Earth due to its strength and durability, exploring the potential changes in concrete in a microgravity environment is critical to future structures on the Moon and Mars, considering environmental factors such as extreme temperatures, solar radiation, and meteorites. Since concrete is composed of sand, gravel, and rocks bound together with a cement powder paste, determining if materials available on those extraterrestrial bodies may be used, reducing the need to transport construction materials to the Moon or Mars, could significantly reduce costs.
Although experimentation and testing continue, initial results indicate increased porosity in those concrete samples processed in a microgravity environment, which affects the strength of the concrete. This preliminary testing was done in sealed pouches, and further study will be conducted to determine if processing the concrete in open spaces yields additional changes. Evaluation of cement samples containing simulated lunar particles processed at different gravity levels is also ongoing aboard the ISS.
The Purair FLEX Portable Isolator is a revolutionary containment product that expands where, when, and how glove bags can be used. Flexible, cost-effective, and highly portable, the Purair FLEX permits easy set up and delivers superior containment capability, not only in the aerospace industry, but in pharmaceutical processing, forensic investigation and processing, industrial cleaning, and biological containment applications.
Features and Benefits
Spacious Interior Volume. An innovative curved film design provides more working volume than any other glove bag on the market.
Easy Setup. Semi-rigid support rods simplify set up and increased stability even if the bag is not inflated to full pressure.
Large Workspace. At 30″ (762 mm) wide and an internal volume of 3 cu.ft. (85 L) a large work area with a 12.5″ (317 mm) gas tight zippered access with a 6″ (152 mm) diameter opening is provided.
Included HEPA filtration options, a built in Bag-in/Bag-out port, and a nitrogen purge inlet connection creates an oxygen-free workspace.
Puncture-resistant construction with ArmorFlex® film offers complete visual clarity and excellent solvent resistance across a range of chemicals as confirmed by independent product testing.
Air Science is an industry leader in the design and manufacturing of ductless fume hoods, biological safety cabinets, forensic laboratory cabinets, filtered and vented storage cabinets, balance enclosures, PCR workstations, total exhaust fume hoods and custom engineered containment, and filtration cabinets. The company serves aerospace, pharmaceutical, biotech, clinical, industrial, forensics, and educational markets worldwide.