Made in America is not just what we manufacture. It's also what we know.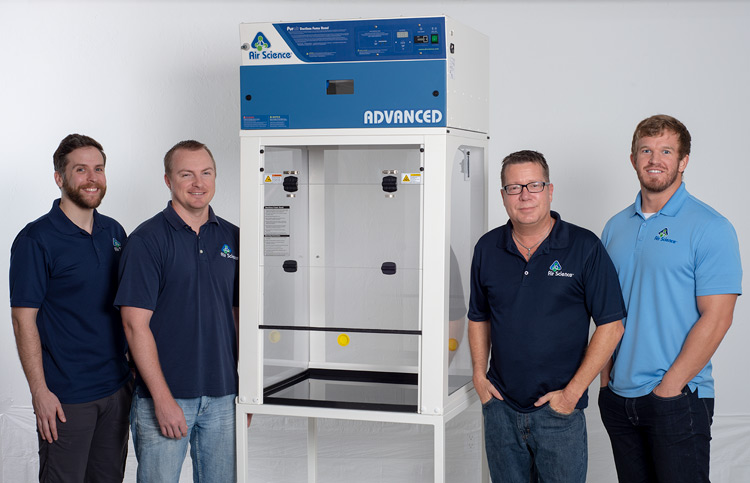 Meet our consultative sales team, left to right: Matt Knaub, Devon Kramer, Duane Parsons and Jared Shouts. The next time you call us you can match the name with the face. And, of course, we look forward to meeting you at trade shows and seminars around America and around the world. —
Air Science has invested in a technical sales team dedicated to supporting you long before you buy anything from us. We want to make sure we understand your objective and the factors that go into your product search and comparison.
The nature of our product line – ductless fume hoods, clean benches, evidence processing cabinets and so much more – brings forth a fascinating range of applications in clinical and medical research, pharmacology, forensic sciences and off-the-wall uses for what we make.
Our team of technical sales specialists may be your first contact with us, and for that we are grateful. Their experience and knowledge about our products and industry applications runs the spectrum and we've seen and heard just about everything when it comes to ductless fume hoods and allied products. Our sales process follows a path. Discovery, assessment, suitability and logistics work are critical to putting the right product at the right place at the right time.
The best part of what we offer is free: help. To make an informed product purchase decision, you must do it within context of product suitability, competition and an appreciation for alternatives. And that's exactly what our technical sales team will do for you, before you buy.
This is one reason that so many of our customers are repeat customers, and why all of our customers value our social responsibility to help make the laboratory and workplace safe for everyone.
Deep into its second generation, Air Science embraces the diversity and cultural heritage of the founders and co-workers who are continuing a tradition of excellence.