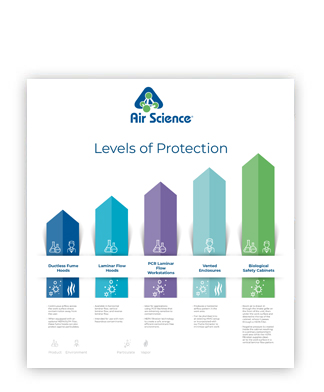 When choosing new or replacement laboratory equipment, it is important to understand which protection level you need for your day-to-day work. No matter your application, Air Science® likely has a ductless solution that is right for you.
Air Science products are designed to meet the needs of numerous applications. We have ductless solutions that can protect you, the laboratory environment, and/or your work from harmful particulates or harmful vapors generated on the work surface, depending on your needs. Our products feature high-quality construction and meet numerous international standards to help ensure your safety needs are met.
Find the best product category for your application quickly and easily by their level of protection. This visual guide shows exactly where our product lines fit within the level of protection so you can select the equipment you need at-a-glance.
Levels of Protection at a Glance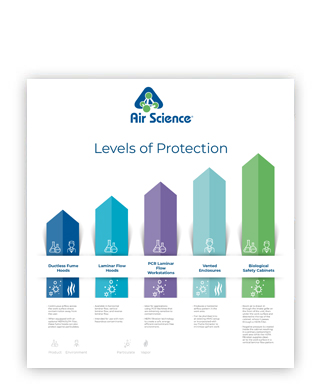 Want a quick reference to the levels of protection for each product category in your laboratory? Download the free Levels of Protection guide.