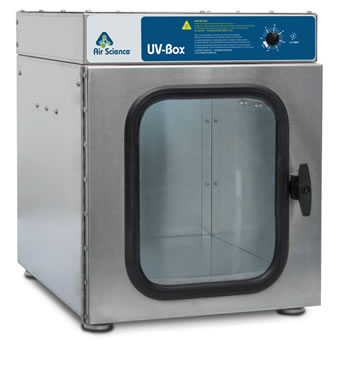 For many years, the Air Science® UV-Box™ Benchtop Decontamination Chamber has been widely used in applications related to forensic evidence processing where latent DNA elimination is critical. Typical decontamination practices call for UV light in the wavelength of 254 nanometers and direct exposure of the surfaces for a period of 90 minutes to ensure all DNA and microbes have been eradicated.
Today, as you evaluate UV sterilization for your application, learn more about it in our whitepaper, Using Ultraviolet Light to Eliminate DNA.
The UV-Box high-efficiency desktop unit is designed to create light emission conditions known to safely decontaminate items such as instruments, tools, cell phones and other materials while providing a safe work environment for the operator.
High intensity UV lamps are optimally positioned within the cabinet producing short wave ultraviolet light at 254 nm to destroy exposed surface DNA and bacteria, leaving materials free of contamination. A combination of safety controls and professional design and construction ensure personnel protection during operation. For more information and links to other resources about the efficacy of UV light for sterilization and decontamination.