Air Science has expanded the company's selection of mobile ductless fume hoods developed for use in classrooms and training centers to include 40″, 48″ and 60″ models with expanded internal workspace volume.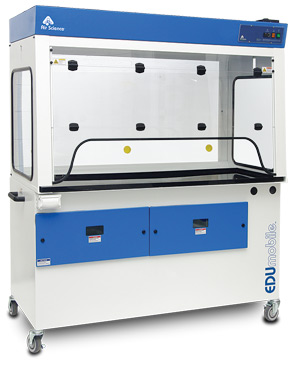 The EDU-MOBILE ductless fume hoods are available in nominal widths of 40″, 48″ and 60″.
Marketed as the EDU-MOBILE Series, the new fume hoods include the same performance features as smaller cabinets originally introduced by Air Science.
All cabinets feature clear sides and back panels to permit unrestricted observation of processes within the work area.
Cabinets are mounted on a wheeled cart with side storage compartments permitting easy relocation from one classroom or laboratory to another.
Ductless filtration eliminates the need for an external exhaust source.
Blowers, filters and controls are mounted beneath the work surface to lower the center of gravity for safe transport.
According to Paul Chambre, CEO of Air Science, the addition of the new models reflects market demand for larger teaching and demonstration fume hoods where classroom observation is an objective. A broad selection of filters for a range of multiple chemical classifications is available.
In addition to the EDU-MOBILE series, other Air Science training and education ductless fume hoods include the 40″ wide EDU-CLASSIC; the EDU-ADA, which is specially designed with hand-held controls and a frame recess to permit use by persons with disabilities or wheelchair access; and a compact EDU-JUNIOR designed for small-volume applications.
Air Science is an industry leader in the design and manufacturing of ductless fume hoods, biological safety cabinets, forensic laboratory cabinets, filtered and vented storage cabinets, balance enclosures, PCR workstations, total exhaust fume hoods and custom engineered containment and filtration cabinets. The company serves pharmaceutical, biotech, clinical, industrial, forensics and educational markets worldwide.
For more information, contact Air Science today or visit the EDU Series product page.