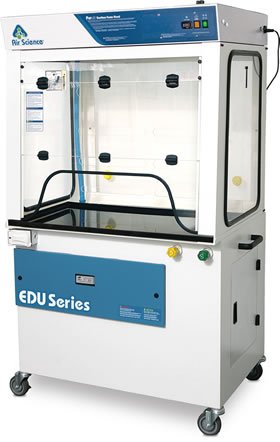 The EDU™ Series Ductless Demonstration Fume Hoods are designed for individual and group applications where clear front, side and rear walls permit 360° visibility. The high efficiency carbon filtration and air management system found in these fume hoods, or containment workstations, protects both the user and the classroom environment from hazardous vapors generated on and above the work surface.
The EDU Series filtering fume hood units are mounted on heavy duty transfer carts and are sized to fit through standard doorways for easy transportation from lab to lab. This makes them the perfect university fume hood or general classroom fume hood.
EDU Fume Hoods Features & Benefits
Offers 360° visibility for full participation
Protects the class from toxic fumes
Filters are easy to change
Improved filter clamping prevents bypass leakage
Low airflow alarm warns of unsafe conditions
Compliant with ANSI, OSHA, AFNOR and BSI safety standards
Portable ductless fume cupboard with transparent front, back and side walls for maximum visibility. The EDU Series offers personnel and environmental protection, optimal energy savings and zero toxic emissions to the room.
Product Features: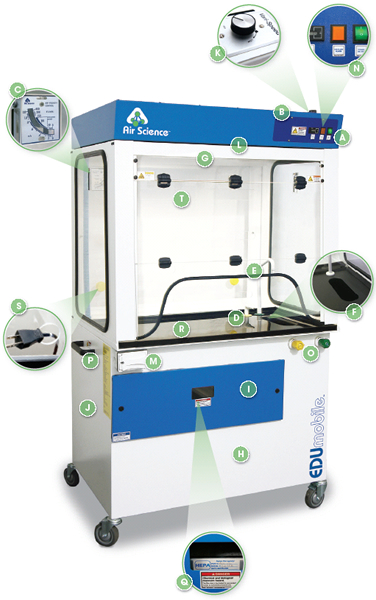 A. Control Panel:
Electronic controls and displays include switches for the blower and low airflow alarm.
B. Power inlet: (right side, top)
C. Air Velometer: An analog air velocity meter in the field of vision of the user.
D. Gas Petcock (Optional)
E. Gooseneck Water Faucet (Optional)
F. Cup Sink: (Optional) Integrated polypropylene cup sink.
G. Internal Diffuser
H. Integrated Centrifugal Fan Motor/Blower Assembly
I. Front Access: Multiplex™ Filtration System, with filter clamp system
J. Electrostatic Pre-Filter: The 99.5% effective electrostatic pre-filter is accessible from inside the chamber to contain the release of any particulates that it traps.
K. Manual Speed Controller: The operator may set the centrifugal fan motor speed as desired.
L. Internal Fluorescent Lamp
M. Duplex Electrical Outlet: externally mounted (Optional)
N. Airflow Alarm: A continuous air velocity monitoring system alerts the operator upon unacceptable values.
O. Main Controls: Petcock and water faucet controls.
P. Cart Handle: Located on the left and right sides of the EDU-MOBILE and EDU-CLASSIC models.
Q. Filter I.D. Window: A strategically placed front cover window shows the installed filter part number and installation date for convenience and to encourage timely filter replacement.
R. Work Surface: The internal work surface is fitted with an optional polypropylene tray; see Accessories.
S. Pass Through Ports: Electrical cords and cables are safely routed into the fume cabinet through ports on the back and side walls.
T. Double Hinged Self Locking Front Sash: When closed, the cabinet sash protects the operator with 100 FPM airflow. The sash is easy to open and latch.
Other Features:
360 Degree Visibility: Clear back and side panels allow ambient illumination into the chamber and provide users with an unobstructed view of its contents.
Standards Compliant: Performance specifications and construction meet or exceed OSHA, ANSI and relevant international standards to assure operator safety.
Construction: All models are available in either metal or polypropylene construction. See selection chart for specifications and dimensions.
Integrated Control Panel: Easy reference to critical information with built-in audible and visual alarms for low airflow and filter use time elapsed.
No Installation, No Ducting Required: Self-contained, integrated systems ideal for fixed location or mobile applications.
Safe, Energy-efficient Operation:
All conditioned air is safely returned to the room, minimizing impact on facility HVAC costs.