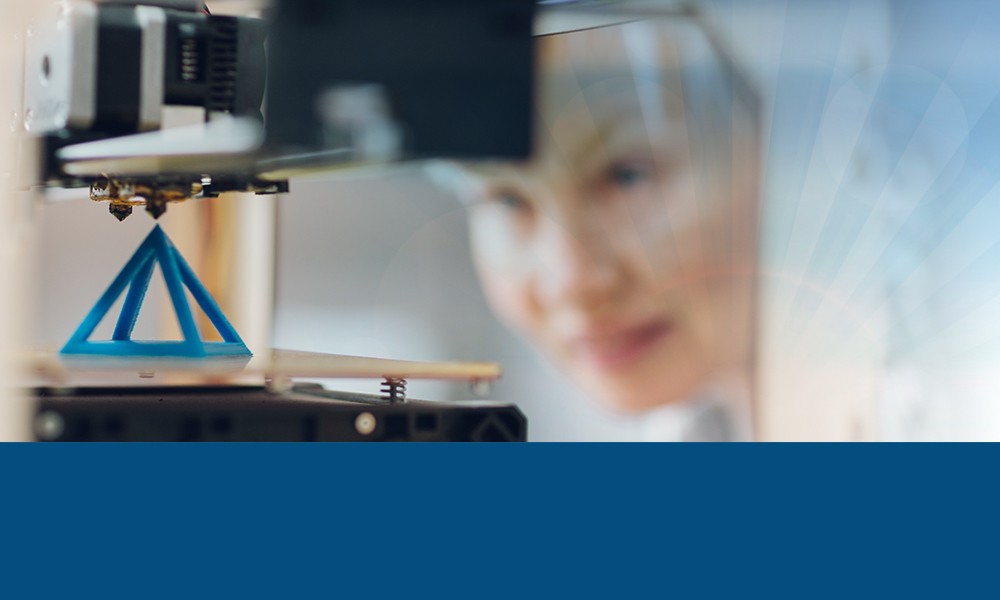 Risk researchers continue to question the safety of 3D printers. As the COVID-19 pandemic heightened in 2020, scores of individuals, educational institutions, and other organizations turned to printing personal protective equipment (PPE) such as face shields to help combat national shortages. The increased demand for 3D printed goods necessitates greater urgency to mitigate potential health risks.
3D printing is the most common Additive Manufacturing (AM) tool available today. Additive Manufacturing layers thin strips of material to form three-dimensional objects. Advances in 3D printing technology have greatly reduced costs and made 3D printers more widely available to industrial settings and schools, maker spaces, and homes.
Over time, gases and particles emitted during 3D printing can accumulate and place the operator at risk and impact indoor air quality. Larger AM facilities have safety precautions to protect workers and the environment from volatile organic compounds (VOCs) and ultrafine particles (UFPs). Yet, these safety regulations are not typically imposed on smaller operations.
Materials Used in 3D Printing
Plastics – The most common feedstock used in 3D printing.

Polylactic acid (PLA)
Acrylonitrile butadiene styrene (ABS)
Polyvinyl Alcohol Plastic (PVA)
Polycarbonate (PC)
Polyamide (Nylon) – Powder

Metal – The second most common material used in 3D printing; often used to print various component parts and jewelry.

Stainless-steel
Bronze
Gold
Nickel
Aluminum
Titanium
Alumide – powder

Resins – More limited use that is often reserved for small figures and models.

High-detail resins
Paintable resin
Transparent resin

Carbon Fiber – A composite used over plastic materials to increase strength.
Graphite and Graphene – Often used for device parts, including touchscreens and solar panels, due to strength, flexibility, and high electrical conductivity.
Nitinol – A highly flexible compound of titanium and nickel, often used in medical implants.
Paper – Used to print models and molds, often with recycled paper pulp mixed with a binding agent.
Of the materials used in 3D printing, plastics remain the most popular, particularly in PPE printing. These materials have been shown to release VOCs that include irritants as well as carcinogens1. Yet even in cases where non-toxic materials, such as resins, are used, the AM process still releases potentially harmful particulates.
According to a 2020 study by the Society for Risk Analysis, 3D printer particulate emissions were found to induce pronounced toxicological effects in human small airway epithelial cells (SAEC).2 These toxicological effects take place as particulates penetrate deep into the lungs.
Additives used in many of these materials, for color, shine, and other properties, have been shown to increase particulate and VOC generation during printing.3 Particulates and VOCs released during 3D printing can greatly impact indoor air quality and put occupants, especially children, at risk.
Fume hood enclosures are one method that can be used to improve the safety of 3D printing.
Purair Basic Series
ductless fume hoods
are compact, making them ideal for use in locations with limited space or for printers that are only used occasionally. The hoods' upright configuration provides sufficient workspace for most 3D printers, while the hinged front sash protects the contents from inadvertent external disturbance and better isolates the air within. Purair Basic ductless fume hoods are available in three standard widths, two depth options in metal or polypropylene construction, totaling 12 standard models.
High efficiency EC blower
Energy saving LED lighting
Filter blockage alarm
Protects the operator from fume and (with added HEPA/ULPA filter) particle hazards.
A unique filter clamping design eliminates bypass leakage outside the cabinet.
---
1
Davis, Aika Y., Zhang, Qian, Wonf, Jenny P.S., Weber, Rodney J., Black, Marilyn S., "Characterization of volatile organic compound emissions from consumer level material extrusion 3D printers,"
Building and Environment
, no. 160, ) August 2019)
https://doi.org/10.1016/j.buildenv.2019.106209
.
3
Alberts, E., Ballentine, M., Barnes, E. and Kennedy, A., "Impact of metal additives on particle emission profiles from a fused filament fabrication 3D printer,"
Atmospheric Environment
, no. 244, (January 2021)
https://doi.org/10.1016/j.atmosenv.2020.117956
.