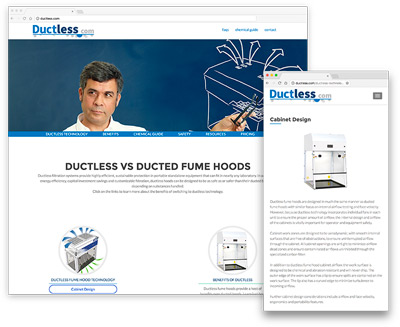 Air Science USA, LLC has published a new website in response to an industry need for accurate, comprehensive information about ductless fume hoods, carbon filtration technology and applications associated with research, forensic, clinical, pharmaceutical and allied industries.
The website is based on a searchable index of online and archived information describing the benefits of ductless technology, best practices and answers to most frequently researched topics that deal with ductless filtration.
Ductless.com contains information on ductless fume hood design, safety, controls, and testing standards. There are also whitepapers and other resources available for further research on various topics.
An interactive chemical guide provides filter recommendations to help ensure the safe use of ductless fume hoods that employ activated carbon filters. Website visitors can enter the chemical name to return results for specific applications and recommended filters.
Because the website serves as a content repository, www.ductless.com also contains links to filters, ductless fume hoods, and other accessories offered by Air Science and Filtco Filters.
Click on the links above to learn more about each of the features or visit ductless.com today.