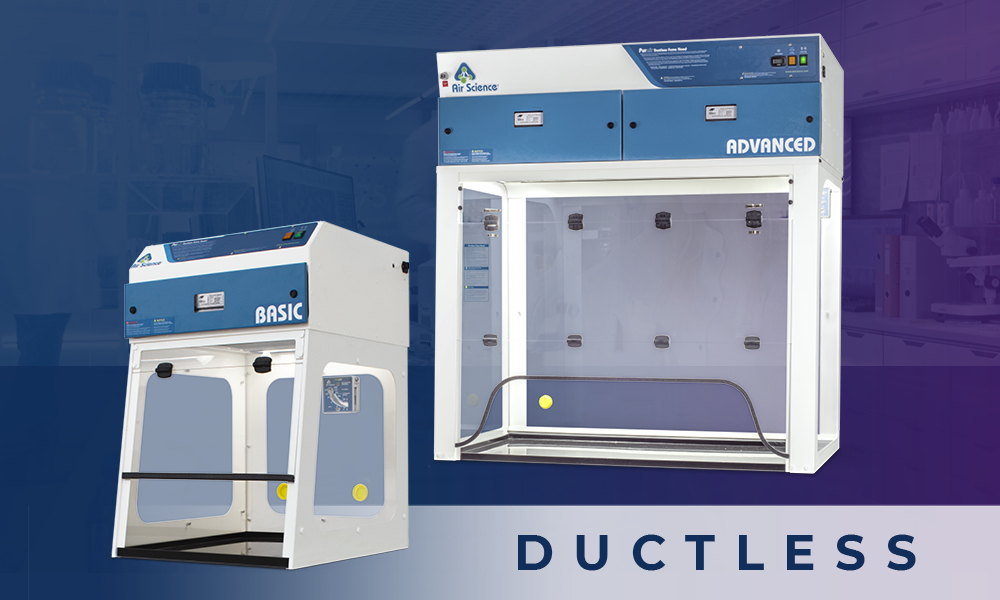 Fume hoods are used in a variety of applications to limit exposure to hazardous fumes and vapors or, with the use of HEPA or ULPA filters, even biologicals, dust or particulates. There are two main types of fume hoods – ducted and ductless. While both can be designed to protect the operator, the work surface, or both, there are clear benefits to going ductless.
Ductless Fume Hoods
Ductless fume hoods use activated carbon filters to adsorb fumes and vapors and recirculate filtered air back into the laboratory. Because they do not rely on ductwork to exhaust air, they are far more cost-effective to install and can be placed almost anywhere in the lab.
They're also equipped with numerous technological advances that help enhance safety and function, such as low airflow alarms that help ensure proper fume containment. What's more, recirculating filtered, conditioned air back into the lab reduces the HVAC load and keeps overhead costs lower. Facilities with multiple fume hoods see substantial energy consumption savings from the use of ductless fume hoods when compared to ducted fume hoods.
Benefits
Protects the user and the environment
Captures hazardous vapors generated on the work surface
With added HEPA/ULPA filter, it captures biological particulates
Energy savings
Do you want to know more about the differences between ducted and ductless fume hoods? Download our free Ebook, "Ducted Vs. Ductless Venting Options: The Benefits of a Ductless Laboratory," to see which is right for you.