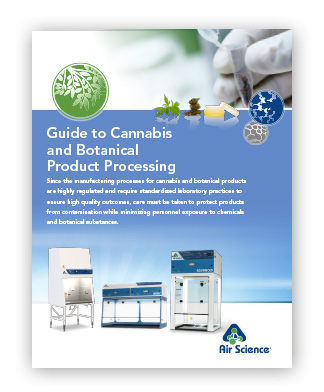 As the manufacturing processes for botanical products are highly regulated and require standardized laboratory practices to ensure high quality outcomes, care must be taken to protect products from contamination while minimizing personnel exposure to chemicals and botanical substances.
Selecting Safe and Reliable Solutions
New techniques and processes are developed each day to improve quality and safety within the botanical products industry. Manufacturers and producers that incorporate new equipment and procedures into their existing processes can help maintain regulatory compliance, protect their employees from potential hazards and deliver top-quality products to end-users. The Air Science product line, including high-efficiency ductless fume hoods, laminar flow workstations, laboratory filtration products and custom enclosures is designed to protect operators and the environment while ensuring product quality during botanical processing.
Download our Guide to Cannabis and Botanical Product Processing ebook today.