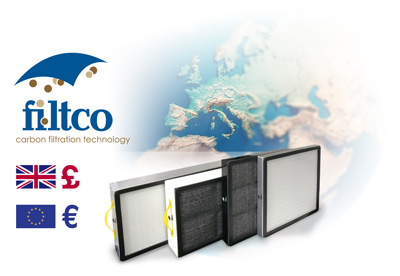 Filtco Filters, sister company of Air Science, recently developed websites to better serve our United Kingdom and European customers, giving them 24/7 access to information and services offered by our company.
At Filtco, we offer the best selection and pricing for replacement filters for storage enclosures, ductless fume hoods and other equipment that uses carbon filters. You can search both the UK website and Europe website by manufacturer to easily select the correct replacement filter for your device.
You can also enroll in the Filtco Safety Program, which is designed for customers who desire turnkey safety management of their ductless technology equipment. UK customers can learn more and enroll by clicking here, while European customers can learn more and enroll by clicking here.
Our SECUR safe disposal service provides environmentally responsible waste removal solutions for saturated carbon filters, transforming them into an energy source that can replace fossil fuels. Adding SECUR to your annual service is simple. UK customers click here to learn more, European customers click here to learn more.
Filtco Filters also offers exceptional customer service. We will recommend the appropriate filter based on the application you are using. You can get recommendations by filling out our Filter Recommendation Request – UK or Filter Recommendation Request – Europe forms.
Because we believe that regular inspection of equipment is an essential part of safety and usage, we can recommend service providers to our customers worldwide upon request.
Visit our United States, United Kingdom and Europe websites today to learn more about filter replacement and other services provided by Filtco Filters.