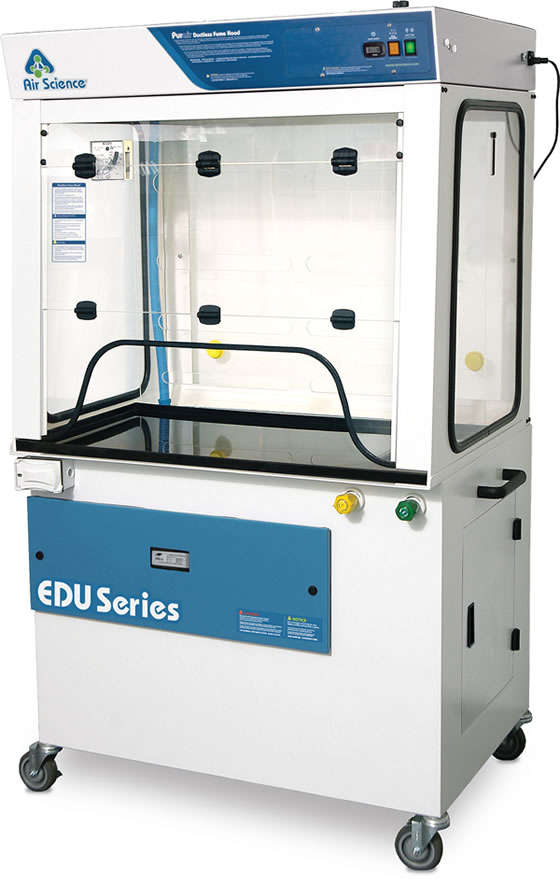 The Air Science® EDU Series Ductless Demonstration Fume Hoods are engineered to protect users and the classroom environment from hazardous vapors generated on and above the work surface while providing 360° visibility, optimal for classroom or training sessions. These units were developed to meet the increased market demand for teaching and demonstration fume hoods where classroom observation is necessary.
The EDU Series Ductless Demonstration Fume Hoods, mounted on heavy-duty transfer carts, are designed to fit through standard doorways for easy transportation between classrooms or laboratories. Ductless filtration eliminates the need for an external exhaust source, and hardware mounted beneath the work surface lowers the center of gravity to aid in safe transport and relocation.
These self-contained units, easy to install, operate and maintain, combine affordability and portability while delivering reliable protection. Employing Air Science Multiplex™ Filtration permits versatile filter configurations and optional HEPA/ULPA filter additions for biological safety against particle hazards.
Available in four models, all cabinets in the EDU Series feature clear sides and back panels to permit unrestricted observation of processes within the work area, making them ideal for group applications. The 34-inch-wide EDU-ADA is specially designed with hand-held controls and a frame recess to permit use by persons with disabilities or wheelchair access. Other models include the EDU-JUNIOR, EDU-CLASSIC and EDU-MOBILE, with available widths ranging from 24 to 60 inches.
Air Science is an industry leader in the design and manufacturing of ductless fume hoods, biological safety cabinets, forensic laboratory cabinets, filtered and vented storage cabinets, balance enclosures, PCR workstations, total exhaust fume hoods and custom engineered containment and filtration cabinets. The company serves pharmaceutical, biotech, clinical, industrial, forensics and educational markets worldwide.
For more information, contact Air Science or visit the EDU Series product page.