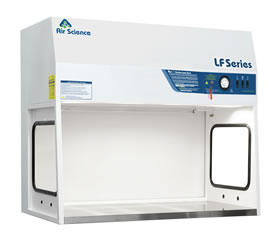 Purair® Laminar Flow Hoods are a series of high efficiency products designed to protect equipment and other contents of the work zone from particulates, for applications sensitive to such contamination. The series includes Vertical Laminar Flow (VLF) cabinets and Horizontal Laminar Flow (HLF) cabinets and is ideally suited for use with non-hazardous contaminants and when flexible access to the equipment in the work zone is desired. At the heart of the Purair Laminar Flow Hood product line is the Air Science Multiplex™ ULPA Filtration Technology that creates a clean work environment over a wide range of applications.
Purair LF Series Features and Benefits
Purair Laminar Flow Hoods are available in vertical and horizontal configurations with various sizes and options for a total of 36 models to choose from in 6 different widths.
Purair Laminar Flow Hoods are shipped fully assembled. No installation is required; just plug them in and use them.
Products are designed for desktop use, or may be installed on an optional mobile base stand.
The rear wall of vertical flow cabinets is perforated to reduce work surface turbulence by removing some of the airflow to the rear.
High capacity air handling system delivers flow velocity of 0.4-0.5 m/s or 80-100 fpm.
Choose from standard powder coated interior or stainless steel interior (-SS models).
Purair VLF and HLF hoods have an ULPA filter pressure gauge to measure filter performance.
The Air Science filters are easy to access, easy to change.
Accessories include an IV bar, service fixtures, base stand, UV lamp, and front door/cover.
Provides sterile work zone for aeseptic techniques.
Air cleanliness meets and exceeds ISO Class 4.
All models use ULPA filters (99.999% efficient at particle sizes between 0.1 and 0.3 microns).
All models equipped with a stainless steel work surface.
Product Features:
A. Control Panel:The control panel includes On/Off switch for fan, lighting, GFCI outlets, Minihelic ULPA pressure gauge to measure filter condition, UV lamp key switch.
B. Main Filter: Long-life Camfil Farr ULPA main filter with efficiency of 99.999% at particle sizes between 0.1 to 0.3 μm.
C. Pre-Filter: Disposable polyester fiber pre-filter with 85% arrestance.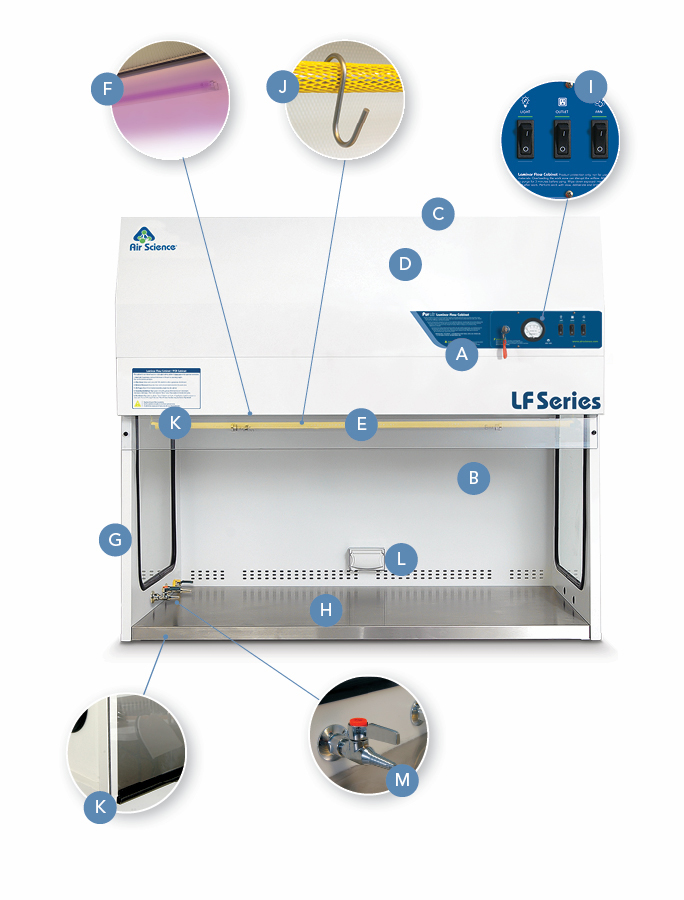 D. Blower Motor
: ebm-papst external rotor blower.
E. Lighting: Compact LED cabinet lamp located away from laminar flow area.
F. UV Lamp: Optional ultraviolet (UV) lamp to create light emission conditions known to safely sterilize and decontaminate work zone and cabinet contents between operating periods.
G. Ergonomic Design: Ergonomically angled front improves reach and comfort.
H. Work Surface: Stainless steel work surface with no spill retention.
I. Fan Control: Recessed fan speed control.
J. IV Bar: Optional IV bar with "S" hooks.
K. Night Door: Optional night door/cover to protect cabinet interior when blowers are off. Contains UV radiation when UV activated.
L. Power Supply: GFCI outlet to power equipment in cabinet.
M. Service Fixtures: Optional petcock service fixture (maximum 4 per unit).
Other Features
Visibility
Side windows allow ambient light into the chamber and provide users with three points of visibility for an unobstructed view of contents. (Not available on stainless steel models.)
Sterile Compounding Compliant
When used according to best practices, the LF Series cabinet encourages compliance with criteria set forth by USP 797 for sterile preparation in pharmaceutical compounding of nonhazardous agents. These include injectables, IV admixtures, pastes and ointments and irrigating solutions which are protected by filtered air over the work surface in a laminar flow.
Construction
Choose from standard powder coated interior with stainless steel work surface and side windows or optional stainless steel interior (-SS model). Available in 120V, 60Hz, and 230V, 50Hz models.
Featured Purair LF Series Models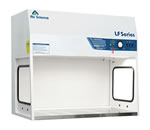 HLF-48
Horizontal flow, 48"W
115V, AC, 50/60Hz
220V, AC, 50/60Hz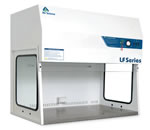 VLF-48
Vertical flow, 48"W
115V, AC, 50/60Hz
220V, AC, 50/60Hz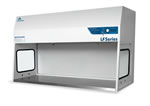 HLF-72
Horizontal flow, 72"W
115V, AC, 50/60Hz
220V, AC, 50/60Hz
Application Specific Literature