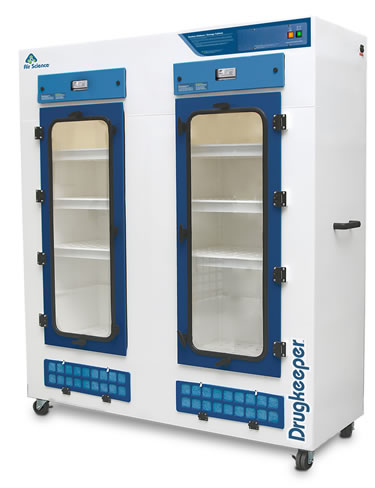 Drugkeeper™ special-purpose storage cabinets can be used for short-term storage of hazardous chemicals and substances typically associated with drug investigations. The cabinets offer an economical solution for the safe storage of confiscated hazardous chemicals and illegal drugs.
Professional design and construction combined with the industry-leading
Multiplex™ Filtration System
protect the safety of personnel during use, maintenance and decontamination of the cabinets. The filters utilized in these cabinets are specially formulated to minimize the health and environmental risks associated with handling chemical vapors and residues, VOCs and other materials associated with methamphetamine production. Access to the prefilter is also available from the interior.
Air Science Drugkeeper storage cabinets offer professional quality that complies with current technical and safety regulations. The cabinet frame and work surfaces, comprised of industrial components, are durable and chemically resistant. Drugkeeper storage cabinets incorporate open wire shelves to accommodate customizable storage and easy cleanup.
Drugkeeper Features & Benefits:
Air Science Drugkeeper storage cabinets isolate and trap chemical vapors to prevent ecological impact through release into the environment. Cabinet airflow and face velocity protect users from incidental exposures while electronic airflow monitoring assures continuous safety.
Easy Installation and Operation
The ductless Drugkeeper storage cabinet is self-contained and does not require venting to the outside. Many units are portable and may be moved with minimal downtime and without filter changes. Set-up, operation and filter maintenance are straightforward.
Energy-Efficient and Cost-Effective
Because filtered air is returned to the room, no demands are required of the facility HVAC capacity for make-up air.
Drugkeeper special-purpose storage cabinets are available in 3 standard sizes featuring white polypropylene construction.
Product Features: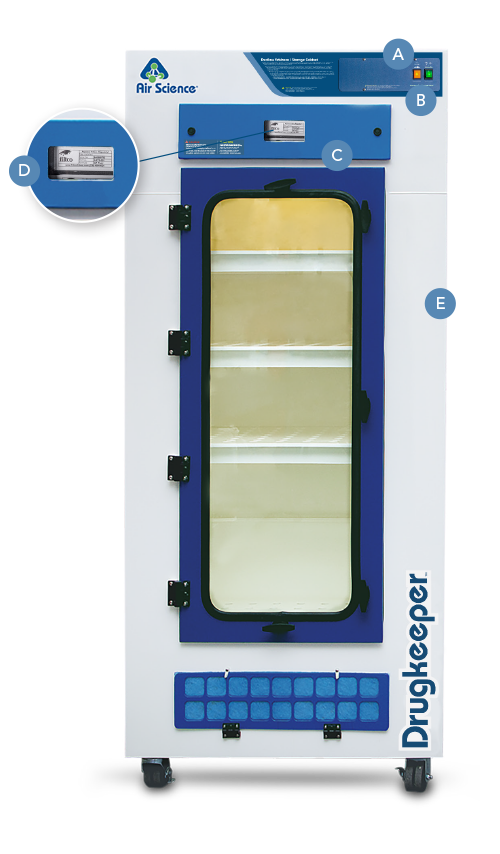 A. Control Panel: Electronic controls and displays include switches for the blower, lights and filter blockage alarm, all located on a convenient front surface panel.
B. Filter Blockage Alarm: Continuously monitors filter loading and alerts user when service is needed.
C. Dynamic Filtration Chamber: The dynamic filter chamber prevents any possible leakage of contaminated air by pressurizing the fan plenum (positive air) and depressuring the filter compartment (negative air).
D. Filter:
Includes carbon filter. Optional
HEPA
filter available; see Options & Accessories.
E. Construction: Cabinets feature all polypropylene construction.
Other Features:
Safe to Use: Cabinet airflow and face velocity protect users from incidental exposures to fumes, odors or bloodborne pathogens.
Self-Testing: Electronic airflow monitoring assures continuous safety. An optional filter saturation alarm (electronic gas sensor) monitors carbon filter performance.
Easy to Clean:
Drugkeeper cabinets are constructed of polypropylene that does not absorb liquids, is easily cleaned with household detergents and can be sprayed with a 10% bleach solution to eliminate biological contaminants.
Featured Drugkeeper Models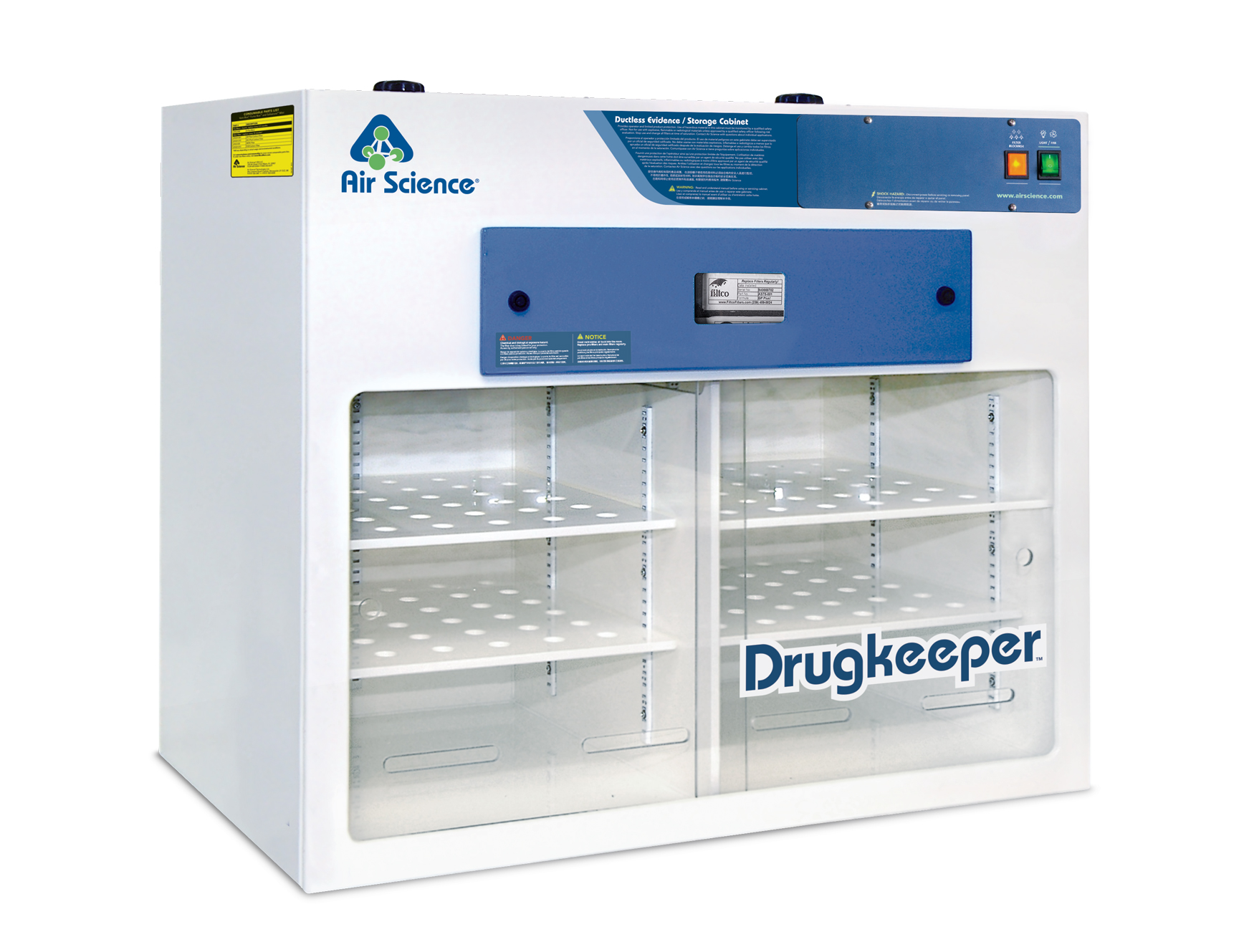 34S
Benchtop storage cabinet, 4 shelves
115V, AC, 50/60Hz
220V, AC, 50/60Hz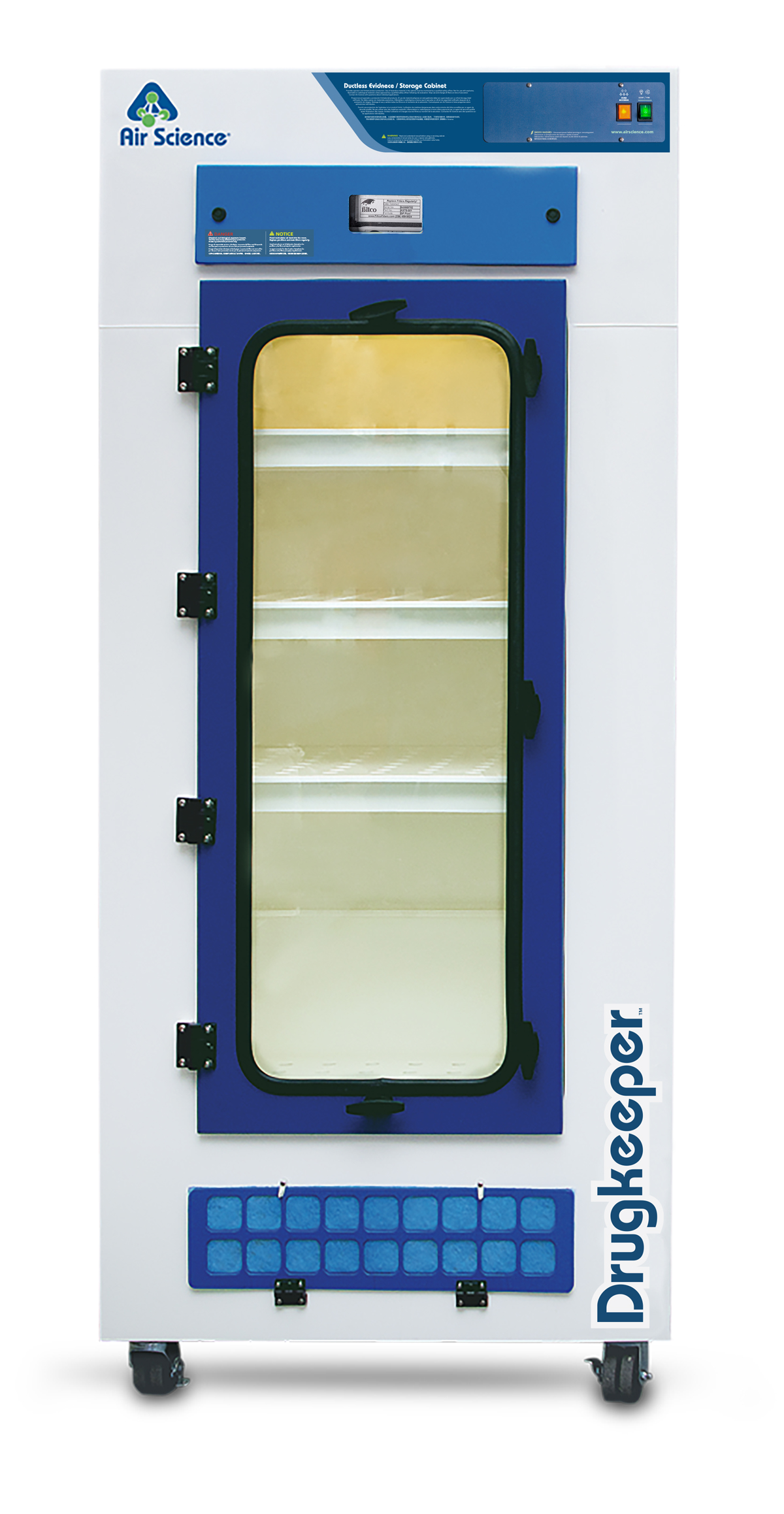 34T
Upright storage cabinet, 4 shelves
115V, AC, 50/60Hz
220V, AC, 50/60Hz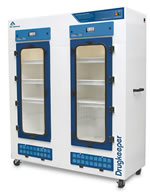 64T
Upright storage cabinet, Double, 6 shelves
115V, AC, 50/60Hz
220V, AC, 50/60Hz