Product Search Results
Models are electrically specific as indicated by the last letter. Model number suffix "-A" is 60Hz. Model number suffix "G" is 50Hz. Example: Model P10-A is a 60Hz unit.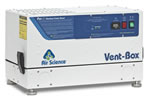 Air Science Vent-Box ductless filtration systems are modular ventilation and filtration units designed to protect laboratory personnel from chemical vapors found inside of stand-alone chemical safety cabinets.