Product Search Results
Models are electrically specific as indicated by the last letter. Model number suffix "-A" is 60Hz. Model number suffix "G" is 50Hz. Example: Model P10-A is a 60Hz unit.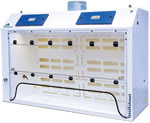 Total Exhaust fume hoods use horizontal and vertical airflow across the work surface to provide personnel protection from hazardous agents and toxic chemicals. These hoods are connected to the facility exhaust system.
Total Exhaust Fume Hood, Polypropylene