Product Search Results
Models are electrically specific as indicated by the last letter. Model number suffix "-A" is 60Hz. Model number suffix "G" is 50Hz. Example: Model P10-A is a 60Hz unit.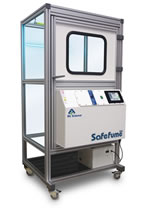 The Safefume 360 is used to develop latent prints from non-porous surfaces in a controlled and safe environment. Choose from small benchtop units to larger walk-in chambers.
Safefume 360 Automatic Cyanoacrylate Fuming Chamber