Product Search Results
Models are electrically specific as indicated by the last letter. Model number suffix "-A" is 60Hz. Model number suffix "G" is 50Hz. Example: Model P10-A is a 60Hz unit.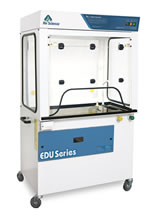 The EDU Series Ductless Demonstration Fume Hoods for individual and group applications protect the user and the classroom environment from hazardous vapors. Clear front, side and rear walls permit 360° visibility.
EDU ADA Compliant, Ductless Classroom Demonstration Fume Hood
EDU Junior, Ductless Classroom Demonstration Fume Hood
P5-24XT-CART-A
-
Compact mobile fume hood on casters, 24"W, 115VAC, 60Hz
P5-24XT-CART-G
-
Compact mobile fume hood on casters, 24"W, 230VAC, 50Hz
EDU Mobile Ductless Classroom Demonstration Fume Hood