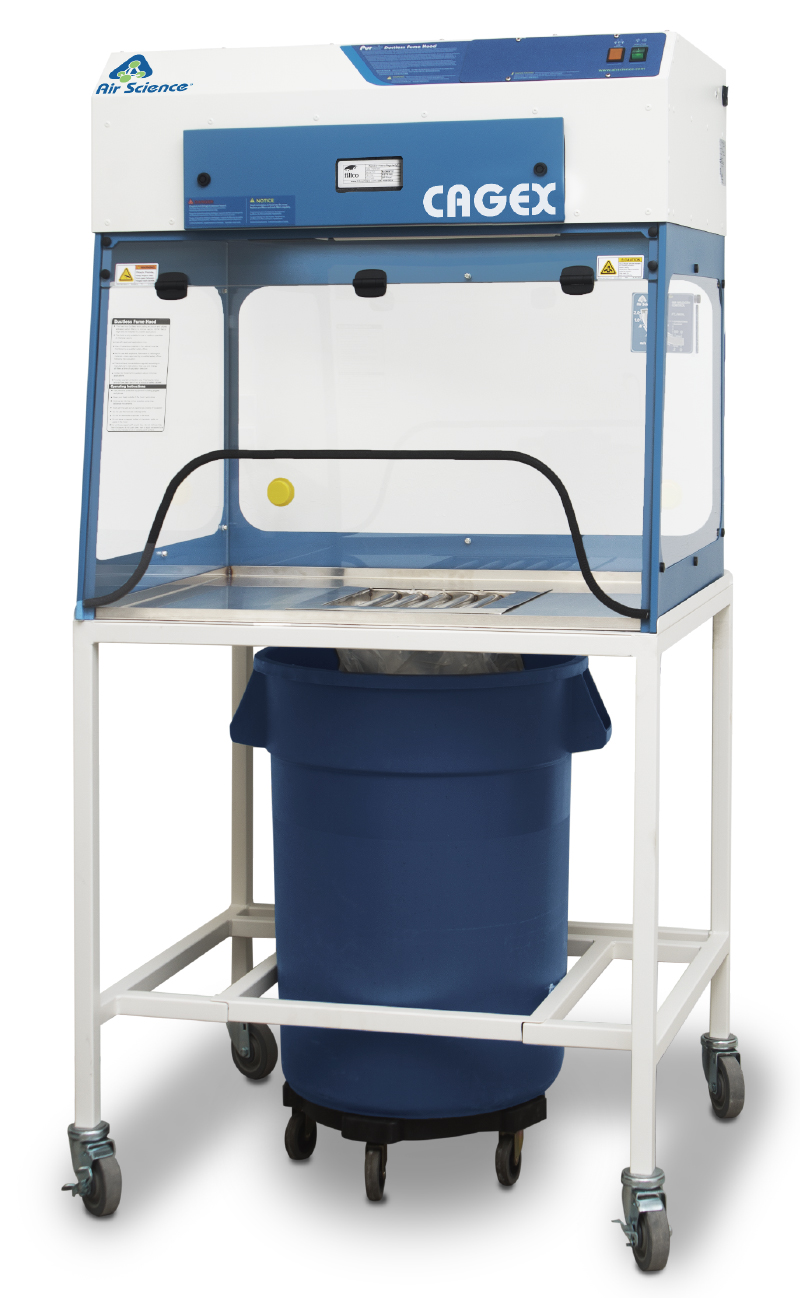 After years of research and development of
high-efficiency ductless fume hoods
, Air Science® is introducing a new series of products engineered to meet the needs of the animal research laboratory. Included in the new product line is the Purair® CAGEX Ductless Fume Hood for animal cage changing, featuring high level performance at an affordable price.
The Purair CAGEX is designed to protect the user and the environment from particulates such as animal dander or bedding material generated on the work surface. The CAGEX incorporates
carbon filters
to absorb odor while optional
HEPA filtration
contains harmful particulates generated during cage changing and waste disposal operations.
Employing the innovative
Multiplex™ Filtration System
with both carbon and HEPA filtration, the CAGEX ductless technology can be installed anywhere without ducting to the outside.
Get a Quote
Purair CAGEX Design Features
High-efficiency EC blower.
Energy saving LED lighting.
Filter blockage alarm.
Improved filter clamping eliminates bypass leakage.
Easy to change filters.
Mounted waste container allows for rapid waste disposal within work zone.
Durable, chemically resistant cabinet frame, easy to clean work surfaces.
Hinged front sash facilitates easy opening and closing.
Optional mobile cart offers ergonomic use and maximum flexibility.
Construction complies with current technical and safety regulations.
Air Science high-efficiency ductless fume hoods
are expertly designed to meet specific applications and certified for quality construction. Standard features, options and accessories are developed purposefully to enhance user friendliness.
Product Features: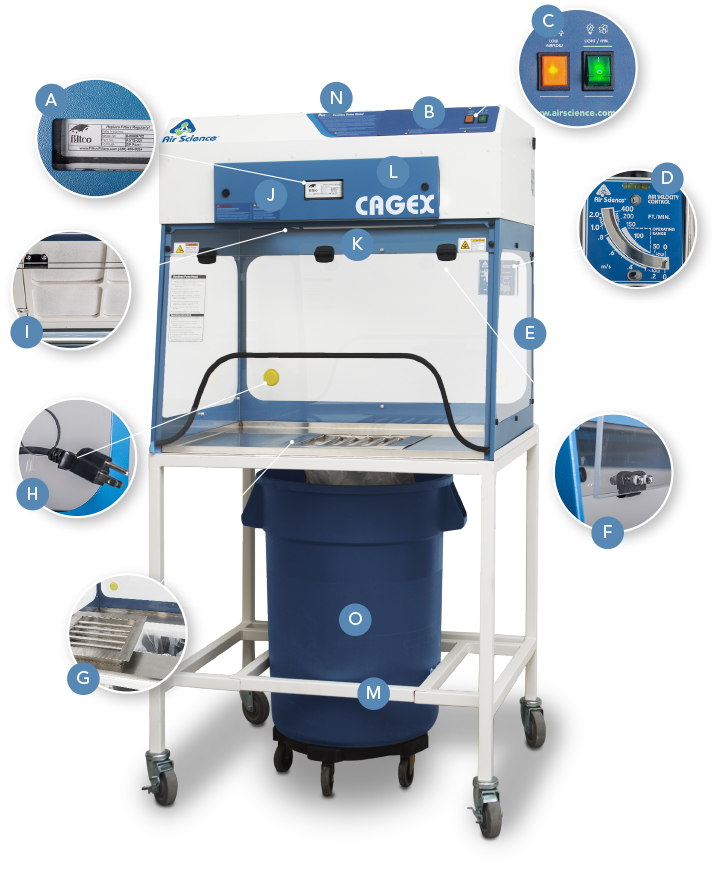 A. Filter I.D. Window: A convenient, strategically placed front cover window shows the installed filter part number and installation date to encourage timely filter replacement.
B. Control Panel: Electronic controls and displays include switches for the blower and filter blockage alarm.
C. Filter Blockage Alarm: Continuously monitors filter loading and alerts user when service is needed.
D. Air Velometer: An optional analog air velocity meter is positioned in the user's field of vision.
E. Steel Support Frame: The chemical resistant epoxy coated steel frame adds mechanical strength.
F. Hinged Front Sash: When closed, the cabinet sash protects the contents from inadvertent external contact and better isolates the air within. The sash is easy to open and close.
G. Work Surface: The stainless steel surface includes a 10.25" x 10.25" opening with a removable grate with 5 bang-bars for easy waste disposal within the work zone and ease in cleaning.
H. Pass Through Ports: Electrical cords and cables are safely routed into the cabinet through ports on the back.
I. Electrostatic Pre-Filter: The electrostatic pre-filter is accessible from inside the chamber and 91% effective down to 1-3 microns.
J. Filter Door Key: Filter access keys prevent unauthorized removal or accidental exposure to dirty filters.
K. Dynamic Filtration Chamber: The dynamic filter chamber prevents any possible leakage of contaminated air by pressurizing the fan plenum (positive air) and depressuring the filter compartment (negative air).
L. Internal Manual Speed Controller: Authorized personnel may set the EC blower speed as desired.
M. Stand: Optional adjustable mobile cart with locking casters for ergonomic operator use and maximum flexibility. The cart is designed to confine a waste container and includes a hinged bar for easy removal.
O. Mounted Waste Container: Allows for rapid disposal of waste within the work zone.
Purair CAGEX Performance Advantages
Easy to Install. The ductless fume hood is self-contained and does not require venting to the outside. Many units are portable and may be moved with minimal downtime and without filter changes. Set-up, operation and filter maintenance are straightforward.
Energy Efficient. Because filtered air is returned to the room, no demands are required of the facility HVAC capacity for make-up air.
Cost Effective. Facility ductwork and construction costs are eliminated.
Safe to Use. Cabinet airflow and 100 fpm face velocity protect users from incidental exposures to fumes and particulates.
360 Degree Visibility. Clear back and side panels allow ambient light into the chamber and provide users with an unobstructed view of cages during bedding exchange or other processes.
At the heart of the Air Science Purair CAGEX is the
Multiplex Filtration System
. It includes a pre-filter, main activated carbon filter and HEPA or optional ULPA filter. The system permits a customized configuration of filter options for chemical adsorption and particulate trapping for a wide range of uses.
The CAGEX is equipped with a single carbon main filter, activated to adsorb one or more specific vapors or family of vapors. Additionally, a HEPA filter captures existing particulates, permitting the Purair CAGEX Ductless Fume Hood to be applied as a Class I Biological Safety Cabinet.
Contaminated air is pulled through the Multiplex Filtration System, activated carbon absorbs the chemical vapors and the HEPA filter captures particulates. Clean air is then returned to the room. The carbon filter is configured to optimize airflow across 100% of the filter surface area and is sized to fit the specified product model number. The self-contained assembly maximizes filter efficiency, prolongs filter life, optimizes diffusion and saturation and improves user safety.
The filter clamps tightly against the filter gasket to prevent filter bypass and maintain filter integrity. The main filters are easy to replace with no tools required. The pre-filter may be replaced while unit is in operation.
Featured Purair CAGEX Models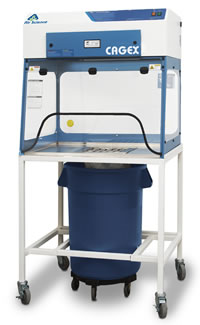 P5-36-XT
Ductless fume hood, 36" W, with optional cart
115V, AC, 50/60Hz
220V, AC, 50/60Hz