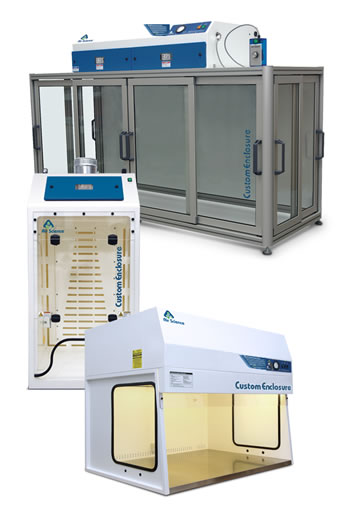 Setting up new operations or developing new processes can be difficult when limited to existing models of vented and ductless enclosures. We understand that your needs are unique, and we can help you find the configuration that is best for you. Get the customized enclosures you need, while we guide you on the best options.
Custom Engineered Products Features & Benefits
We build custom enclosures for specific customer requirements and applications. Each unit is designed to maximize operator safety and accessibility, and is tested and certified to factory specifications and industry standards.
Custom enclosures can be designed to protect the process, operator, or both from particulates, fumes and vapors.
Air Science has developed enclosures to accommodate many of the most commonly used robotic systems.
Customization can range from small modifications of existing standard Air Science models, to completely custom, application-specific enclosures.
The Benefits of Custom Design
Custom enclosures are designed to incorporate as seamlessly as possible into your current operation. We can build enclosures to be ducted directly into your existing HVAC system or create a ductless design that can fit anywhere.
Ductless technology offers a host of benefits and features designed to help you save money and offer enhanced protection to operators, processes, and the environment.
Ductless.com
answers all your frequently asked questions about ductless technology.
Environmental Benefits. Ductless chambers capture vapors and particles to prevent operator exposure and eliminate ecological impact.
Energy Efficient. Because filtered air is returned to the room, no demands are required of the facility HVAC capacity for make-up air.
Cost Effective. Facility duct work, HVAC and construction costs are eliminated.
Safe to Use. Cabinet isolation and filtration protects users from incidental exposures to harmful fumes.
Versatile. The filtration system uses the exclusive Air Science Multiplex filtration technology.
Easy to Install. Air Science ductless chambers are self-contained. Set-up, operation and filter maintenance are straightforward.
Customizable Choices for any Application
The Air Science staff works closely with you to provide high quality enclosures built to your specifications, providing consultation on optimum materials and dimensional layouts to achieve the best results. Our process is completely customized, delivering a host of options including custom sizes, construction materials, door types, airflow patterns, filtration, and accessories.
Construction. We can build enclosures to any dimension and from a wide array of materials. We offer construction in epoxy-coated sheet metal, stainless steel, aluminum extrusion, polypropylene, acrylic, polycarbonate, as well as tempered glass.

Filtration. Custom enclosures can be designed to utilize carbon filtration to trap a host of chemical vapors utilizing the Multiplex Filtration System. We can provide HEPA / ULPA filtration to trap particulates or design without filtration if the enclosures are to be connected to a filtered in-house HVAC system.

Airflow Patterns. We offer positive pressure enclosures to protect the process in both vertical downflow and horizontal airflow configurations. Negative pressure systems, designed to protect the operator from harmful particulates and vapors, can be configured in vertical upflow or horizontal flow patterns. Air Science is also able to incorporate crossflow and multi-directional airflow to ensure both process and operator are protected. Dead air systems are available as well.

Doors and Openings. Each enclosure can be fitted with your choice of door type. Common selections include overlapping sliding doors (horizontal or vertical), hinged horizontal upward swing doors, or vertical outward swing doors. We also can include vinyl strip doors and glove port openings.

Accessories. In addition to our construction, filtration, and airflow options, we can offer a variety of optional accessories to meet your needs as well. Cable ports, fan speed controllers, lighting, airflow and filter alarms, as well as sinks and service outlets can be installed in any of our custom enclosures.