Servicing and Filter Replacement:
Support for Full Range of Fume Filtration Equipment
Air Science® provides complete support for ducted and ductless fume cupboards, laminar flow cabinets and safety cabinets in compliance with HSG258 under COSHH. Minimise equipment failures and ensure the safety of operators by servicing your fume filtration equipment on a regular basis. Failure to do so could result in harmful vapors being recirculated into the air.
European Office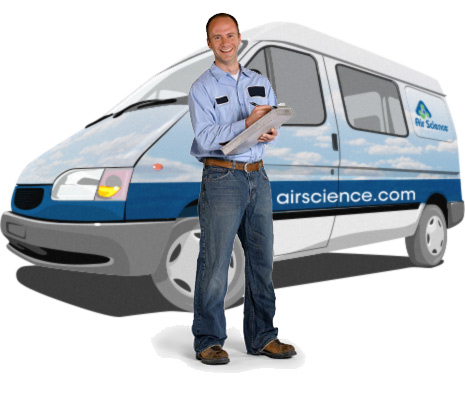 Address
Air Science Technologies Ltd.
44a Liverpool Road
Lydiate, Merseyside L31 2LZ, UK
Phone
Sales 0151 526 2457
Toll-Free 07714 744 417
Accounts 0151 520 4344
Fax
0151 520 4340
France Distributor
Initio
145 Cours Jean Jaurès
38130 Echirolles
France
Tel: 0476481510
Filter Service and Maintenance Program
For customers desiring turnkey filter service and management of their ductless technology equipment, Air Science offers the Filter Service and Maintenance program.

This program has three main phases:

Specification
Installation
Inspection
Specification
An Air Science filter expert analyzes your ductless technology application and generates a specification for equipment, filtration, installation, and inspection. The specification is suitable for use with requests for quotations from equipment manufacturers and installers.
Installation
When the equipment is installed, one of our experts will certify the installation as compliant to the specifications and provide your operations and safety personnel a detailed certificate of the materials and processes for which the equipment was designed and properly installed and ongoing inspection and maintenance requirements to assure continuing performance and protection.
COSHH Compliance
As part of our normal maintenance and fume cupboard service protocol, our personnel will consult you on each step of the process to become COSHH compliant as determined by HSG258. This consultation is free of charge and is included in the annual maintenance and service agreement fees.

Read more about COSHH and HSG258 compliance by visiting the Health Safety Executive website.
Inspection
At the specified intervals, we will contact your operations and/or safety personnel to assure conformance to the application and maintenance requirements for the equipment. If there are changes to your application or usage, we will implement any required changes to your certificate. We will walk you through filter saturation tests and replacement procedures as required.
Annual Filter Change Reminders
Our program ensures safe operation year round by sending you Annual Filter Change Reminders and offering filters to fit a wide range of manufacturers.
Lowest Price Guarantee
We guarantee the lowest prices on filters and will take an additional 10% off any competitor's quote that is lower.
To inquire about our Filter Service and Maintenance program, please call 077 54 977572 or
email
Air Science Technologies, Ltd.