Laminar Flow and Fume Filtration Services and Maintenance
Air Science® Technologies, an industry leading international supplier of fume filtration products to the medical, industrial, forensic and educational sectors also offers full services for a variety of fume cupboard brands. We provide complete support for ducted and ductless fume cupboards, laminar flow cabinets and safety cabinets in compliance with HSG258 under COSHH.
Servicing your fume filtration equipment regularly can minimise equipment failures and prevent harmful vapors from being recirculated into the air, ensuring the safety of operators.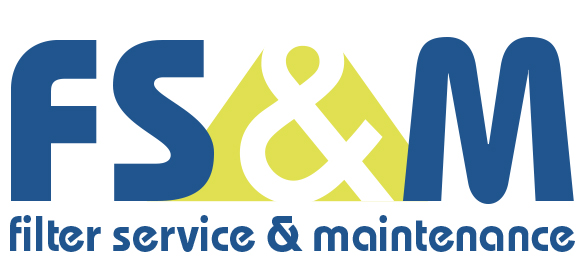 Filter Service Maintenance Program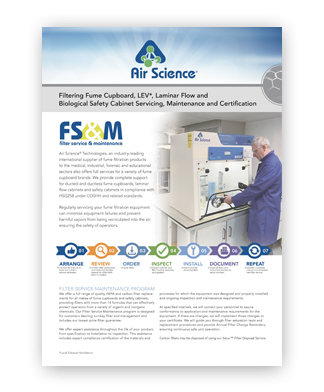 We offer a full range of quality HEPA and carbon filter replacements for all makes of fume cupboards and safety cabinets, providing filters with more than 14 formulas that can effectively protect operators from a variety of organic and inorganic chemicals. Our Filter Service Maintenance program is designed for customers desiring turnkey filter and management and includes our lowest price filter guarantee.
We offer expert assistance throughout the life of your product, from specification to installation to inspection. This includes expert compliance certification of the materials and processes for which the equipment was designed and properly installed and ongoing inspection and maintenance requirements.
At specified intervals, we will contact your personnel to assure conformance to application and maintenance requirements for the equipment. If there are changes, we will implement those changes to your certificate. We will guide you through filter saturation tests and replacement procedures and provide Annual Filter Change Reminders, ensuring continuous safe unit operation.
Carbon filters may be disposed using our Secur™ Filter Disposal Service.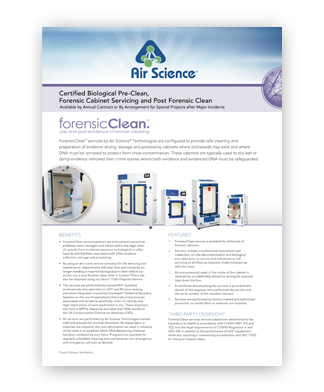 Our professionally equipped and trained team of experienced engineers is available for emergency callouts and short and long term maintenance contracts, delivering competitive pricing with minimal downtime. Air Science products are manufactured under an ISO 9001 and ISO 14001 quality management system.
As part of our normal maintenance and service protocol, our experts will consult your personnel on each step of the process to become COSHH compliant as determined by HSG258. This consultation is free of charge and is included in the annual maintenance and service agreement fees.
ForensicClean™ services are available to provide safe cleaning and preparation of evidence drying, storage and processing cabinets where biohazards may exist and where DNA must be removed and safeguarded from cross contamination. A certificate documenting the process is provided with details of the engineer who performed the service and the serial number of the chamber cleaned.
Our commitment to superior services is exemplified by our 95% client retention ratio and our international client base, as we have collectively worked for many organizations in over 40 countries around the world.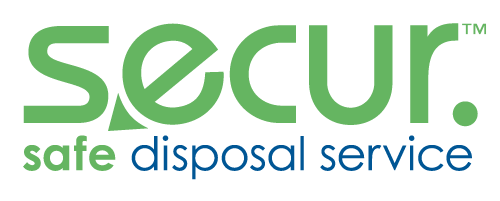 SECUR FILTER DISPOSAL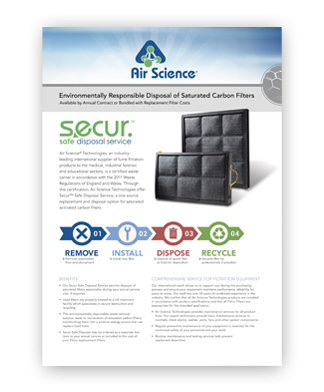 Air Science Technologies, Ltd. is a certified waste carrier in accordance with the 2011 Waste Regulations of England and Wales. We dispose saturated filters responsibly if required during the servicing. Used filters are properly treated at the Violia UK Treatment Facility which specializes in secure destruction and recycling. This environmentally responsible waste removal solution leads to incineration of saturated carbon filters which transforms them into a positive energy source that can replace fossil fuels.
Service Report and Detail
A detailed Service Report is completed following each occurrence. The service report documents the following information:
Company/Facility Information
Purchase Order/Administrative
Airflow Measurements (FPS or M/S)
Visual Inspection
Applicable Standards and Regulations
Filter Pass/Fail Tests

Main Filter, Part Number and Serial Number
Safety Filter, Part Number and Serial Number
Air Science Technologies Filter Management Services and Best Practices
The Air Science Technologies Secur™ Service Process
Step 1. Remove expended filter. Label source, type of filter and bag. Set aside temporarily if you plan to collect multiple filters for disposal.
Step 2. Install new filter.
Step 3. Filter disposal.

Retrieve expended filter and move to staging location until additional spent filters have been accumulated. It will be more cost effective to transport all collected and bagged filters to a treatment/recycling facility in bulk rather than one at a time.
Once filters arrive at the treatment/recycling facility, filters will be evaluated by trained professionals.
Some filters may be recycled at the discretion of the treatment/recycling facility.
Non-recyclable filters will be professionally neutralized and made safe for transport to a licensed landfill.
Air Science Technologies FS&M™ Services and Best Practices
For Carbon Filtration

Review application of Air Science product including chemicals or chemical families used.

For HEPA/ULPA Filtration

Review type and size of particulate effluent expected, i.e. 0.3 to 0.1 micron.

Replacement Filter(s) Determination

If carbon only, specify chemical or chemical families associated with fume hood use.
If carbon and HEPA/ULPA.

Select chemical or chemical family specificity for the primary replacement filter.
Select HEPA or ULPA for a secondary filter.
Note: Pre-filters are included with all Air Science ductless fume hoods and can be changed while the unit is operating; no tools are required.

Not sure? Contact Air Science for assistance.

When new filters are received, inspect for visible damage.
Before installation, inspect the fume hood housing and filter compartment for gasket and clamping integrity.
Once installation is complete test carbon (and HEPA/ULPA) filters for VOC or particulate efficacy in accordance with manufacturer's specifications, local codes and applicable standards.
Label all filters with day and date of replacement where information can be visible without removing the filter.
Document the process and retain for records.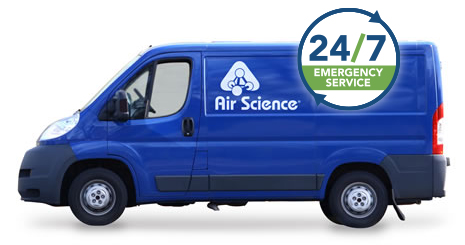 Emergency Call-Out Service 24/7
Air Science Technologies provides mobile support for ducted and ductless fume cupboards, laminar flow cabinets and safety cabinets in compliance with HSG258 under COSHH, and to encourage regular inspection and filter replacement.
European Office
Address
Air Science Technologies Ltd.
44a Liverpool Road
Lydiate, Merseyside L31 2LZ, UK
Phone
Sales 0151 526 2457
Toll-Free 07714 744 417
Accounts 0151 520 4344
Fax
0151 520 4340
France Distributor
Initio
145 Cours Jean Jaurès
38130 Echirolles
France
Tel: 0476481510