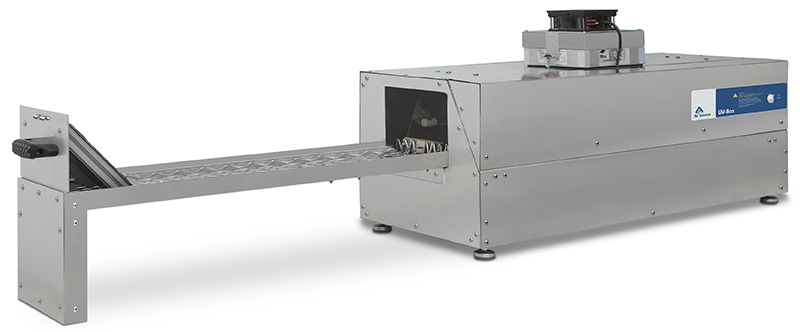 The UV Decontamination Chamber is a high-efficiency tunnel enclosure designed to safely decontaminate masks and other small items while providing a safe work environment for the operator. The tunnel contains UV lamps positioned within the chamber which emit shortwave utlraviolet light at 254 nm known to destroy exposed surface viruses and bacteria.
UV Decontamination Chamber Features & Benefits
Eight 254 nm UV lamps surrounding the grated loading tray create light emission conditions known to destroy exposed viruses and bacteria on items placed within the chamber.
Microprocessor control with color viewscreen provides programming capabilities, status and safety functions.
A tray interlock interrupts operation in the event of an accidental opening.
Both HEPA and activated carbon filters capture pathogens and vapors emitted as a byproduct of decontamination, protecting the user and the environment.
Product Features: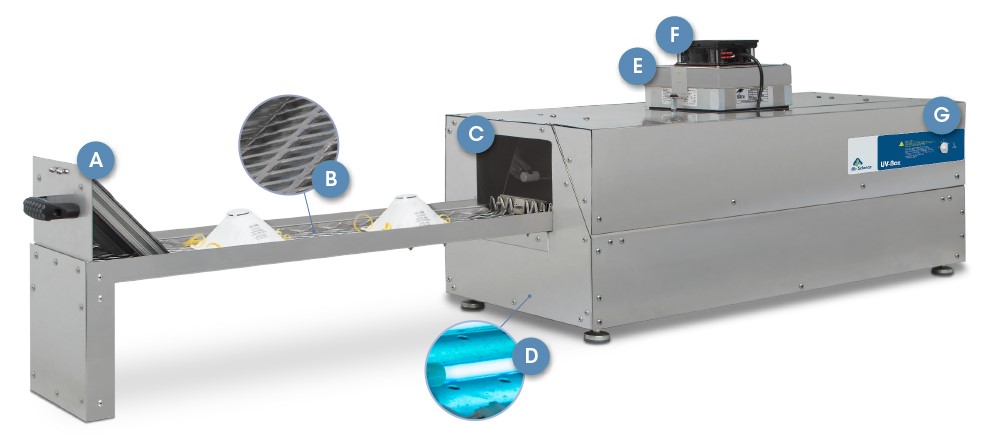 A.
Easy slide stainless steel drawer with tray.
B. Perforated tray for maximum exposure of contents to UV light.
C. UV lamp chamber with light-tight door.
D. Natural airflow inlet is strategically located to keep each UV bulb cool.
E. Negative airflow system with HEPA and carbon filters scrubs exhaust air of vapors and particulates and cools each bulb to extend bulb life.
F. Air is drawn through a HEPA filter exhaust for operator protection.
G.
UV timer allows user to set specific decontamination time and cycle.
Featured UV-Box Models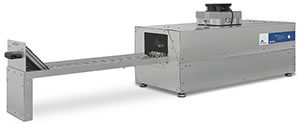 Decontamination chamber, 15"W