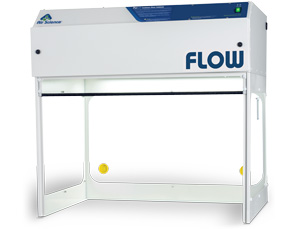 Purair® FLOW series laminar flow cupboards are designed to protect the work surface, products and materials from particulate contamination. Room air passes through a HEPA filter then uniformly by laminar flow through the cabinet interior to protect the work from unfiltered air. The airflow is oriented to exhaust airborne particulate introduced by the user.
The Purair FLOW series product line employs the Air Science® exclusive Multiplex® HEPA filtration technology to sustain the contamination-free environment.
Purair FLOW Features and Benefits
Vertical laminar airflow with HEPA/ULPA filtration protects materials inside the cabinet from particulates.
High airflow capacity.
Configurable with a broad range of options customized to your specific application.
Easy-to-change filters.
Available in 2', 3' and 4' widths.
Product Features: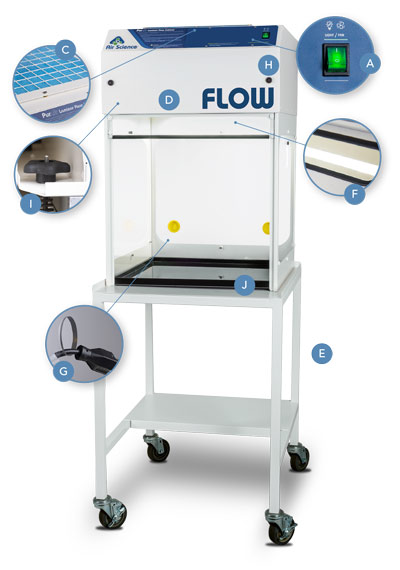 A. Control Panel: The control panel includes an On/Off switch for simple operation.
B. Airflow Alarm: HEPA filter with 99.99% efficiency for 0.3 micron particulates (ULPA optional).
C. Pre-Filter: Disposable polyester fiber pre-filter with 85% arrestance.
D. Blower Motor: ebm-papst EC blower.
E. Stand: Optional base stand converts to mobile cart with optional locking casters.
F. Lighting: Compact LED cabinet lamp located away from laminar flow area.
G. Pass Through Ports: Convenient rear-wall pass through ports for safe routing of instrument cords, cables, and leads.
H. Filter Door Lock: Prevents unauthorized removal or accidental exposure to saturated filters.
I. Filter Clamp: Wide knob filter clamps are conveniently located forward of the assembly. The clamps secure the filter to the plenum with even pressure to assure a tight seal and to simplify filter removal and replacement when required.
J. Work Surface: Optional polypropylene spill tray, available in white or black, or optional stainless steel spill tray available.
Other Features: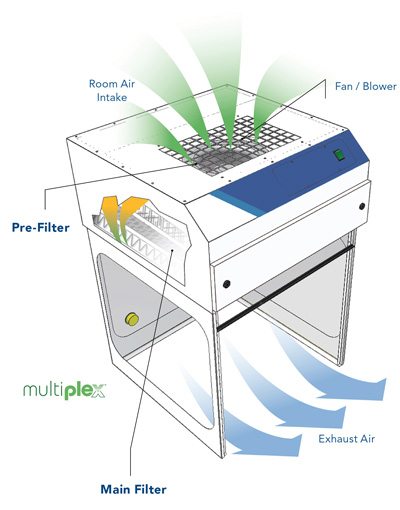 360 Degree Visibility: Clear back and side panels allow ambient illumination into the chamber and provide users with an unobstructed view of its contents.
Standards Compliant: Performance specifications and construction meet or exceed OSHA, ANSI and relevant international standards to assure operator safety.
Construction: All models are available in either metal or polypropylene construction, specify when
ordering. Available in 120V 60Hz or 220V 50Hz models.
Steel Support Frame: The chemical resistant epoxy coated steel frame adds mechanical strength.
Optional all polypropylene construction is available if desired. The pre-filter can be changed while the unit is operating to prevent operator exposure to chemical vapors.
Featured Purair FLOW Models